Learning Community Invitation: Problem-based Integrative Education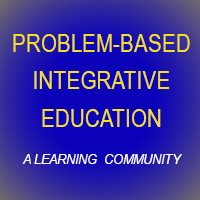 Current research tells us that problem-based, integrative education (PIE) motivates and transforms students better than almost any other approach to learning.
By capitalizing on the basic human desire and ability to learn through experience, PIE encourages engagement through authentic problems that connect classroom knowledge and skills to real-world challenges, and prepares students to meet challenges in their jobs and lives. These "wicked problems" that can only be solved by integrating knowledge and skills from various disciplines and professions.
As part of a Provost's Faculty Fellowship for AY 2019-2020, English faculty member Karla Armbruster will be leading a learning community on PIE.
Meeting times and specific topics will be determined by participants, but the group will meet 3 times per semester in order to :1) learn about current research and ways other institutions approach PIE, and 2) develop plans to teach other members of the Webster community about PIE and encourage the creation of new PIE initiatives.
And yes, we can have actual pie if that's what we want to do!.
Please e-mail armbruka@webster.edu if you are interested in attending a session. All are welcome, not just faculty.