Students Advocate for Professional Counseling Field in State Capital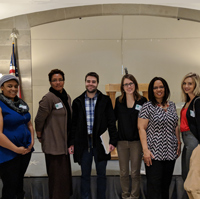 Students in Webster University's Master of Arts in Counseling program from the home campus in Webster Groves participated in the 2018 Student Legislative Day in Jefferson City, Missouri.
Each year the Missouri Mental Health Counselors Association gathers together faculty and students in the state capital to advocate for the field of professional counseling in the state of Missouri. This year students spoke with state senators and representatives about House Bill HB2205, which, if passed, will add licensed professional counselors (LPCs) to the list of providers eligible for reimbursement under MO HealthNet for adults.

Several Webster students attended for the first time this year and gained new perspectives on what it was like to work with local government.
"It felt very empowering to be able to talk to people who have such a power to change the country. We all enjoyed it very much," said Jehan Ganachaud. He also took initiative to reach out to the event organizer with suggestions on how to make next year even more effective.

Hasmik Chakaryan, assistant professor in the Department of Professional Counseling in Webster's College of Arts & Sciences, encourages students enrolled in her COUN 5800 Professional Orientation and Ethical Practice course to attend Legislative Day. It allows Webster students to gain advocacy experience for their chosen field.
Student Reflections
"Advocating and sharing a compelling stance on counseling is critical to our profession, and I left more educated of our legal system," said Kristen Darr.
Heidi Payton agreed. "What I got out of the event was the importance of advocating not only for the counseling profession, but for the future clients," she said. "Being able to personally speak with individuals who are responsible for signing and approving bills that directly affect my livelihood was an eye-opening experience."
As a student representative to the Missouri Mental Health Counselors Association, Mareayna Caine has participated in Legislative Day for the past two years. Her representative role will finish in May, but she is proud to have gained this experience during her tenure.
"Immersing yourself in the challenge of being heard by people who help to rule our state is a reality check," Caine said. "Walking side by side to someone while giving an elevator pitch, while nerve racking, creates a feeling of investment. Legislative Day is an opportunity to truly be an advocate to better your own professional future career and to network with those who can help you understand some of the clients you may one day service."