Gorloks Excel at Annual Programming Contest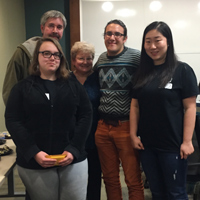 Students from across the region participated in the annual Association for Computing Machinery (ACM) International Collegiate Programming Contest (ICPC) hosted by Webster University's George Herbert Walker School of Business & Technology on Saturday, Nov. 7.
Webster has served as a host for the ACM ICPC programming contest for the Mid-Central US region for over 10 years.
Twelve teams from six universities participated in Saturday's contest. Webster was represented by two teams: Gorlok1 (Paul Derrien, Matthew Schupack and Jennifer Deutchmann), and Gorlok2 (Joshua Gerber, Matthew Kriegel and Elie Regev). The Gorlok 1 Team was awarded third place honors and Gorlok Team 2 took home fifth place. Among all teams of the entire Mid-Central region, including University of Chicago, Washington University at Saint Louis, Northwestern University and many others, the Webster teams placed in the upper tier. Among all 146 participating teams worldwide, Webster ranked number 36 (Gorlok1) and number 44 (Gorlok2) respectively.
Walker School faculty Xiaoyuan Suo and Brenda Boyce organized the event and coached the Webster teams. The accomplishment of the six Webster students demonstrates that Webster University has a competitive and top-tier computer science program. In addition to the team competition, four Webster students place in top 100 worldwide rankings for competitive programmers. Three students also placed top 10 in the United States for competitive programmers.
"The problem sets this year were much more difficult than last year," Suo said. "And yet, one of our teams, Gorlok1, was one of the leaders of the region during the first half of the contest. They were also leader of our site during most of the contest."
The ACM ICPC made significant changes this year with all regional contests now judged online. This requires bullet-proof system testings and proxy server configurations. Suo and Boyce worked with the Webster Information Technology's Desktop Technical Services (DTS) and networking group for over a month to resolve various issues in preparation for a successful contest.
Overall it was a successful event, and the Walker School looks forward to hosting it again in the future. More information regarding the undergraduate computer science programs available at Webster can be found here.
About the Association for Computing Machinery International Collegiate Programming Contest
The ACM ICPC is an annual multi-tiered competitive programming competition among the universities of the world. The contest is sponsored by IBM with headquarters at Baylor University. It is considered to be the most prestigious and competitive programming contest in the world for university students. Each year, the contest attracts over a hundred thousand undergraduate students around the world to solve 8 or more very challenging programming puzzles.
As one of the biggest and most influential programming contests internationally, the contest pits teams of three university students against eight complex, real-world problems, with a grueling five-hour deadline. Huddled around a single computer, competitors race against the clock in a battle of logic, strategy and mental endurance.