Prosper Act: A Message from the President and Provost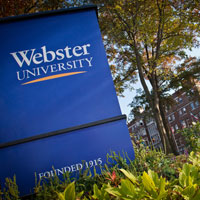 To the University community;
This week the U.S. House of Representative's Education and Workforce Committee prepared to move forward with the reauthorization of the of the Higher Education Act (The PROSPER Act). We have been following the developments of this bill closely. The details of this bill are troubling and potentially could affect all of our students, with the greatest impacts on Pell-eligible students and others whose talent and ambition exceed their financial resources, two populations Webster has a strong history of serving.
The most recent version of the bill would:
Eliminate Supplemental Educational Opportunity Grants, which have been in existence since 1972. These grants give the neediest Pell Grant students additional grant aid and require colleges to match federal funding.
Eliminate the student loan program that prevents the students with greater financial need from being charged interest while they are in school.
Reduce the ability of graduate students and their parents to borrow.
Eliminate graduate students from work-study.
Eliminate public service loan forgiveness, a program that reduces student debt and also provides necessary services to underserved areas of the nation by hiring recent graduates to fill needed roles in rural and impoverished communities.
Restricts students who have to borrow or who receive Pell Grants from only studying certain majors. We cannot even begin to know the effect of this kind of provision and believe it needs more thoughtful analysis before becoming law.
Requires institutions to pay back all student aid received by a student who drops out mid-year. We believe this also requires more study and analysis.
There are also some good ideas in the bill. A proposal to grant additional Pell Grant money to students who take more than 15 credit-units per semester has merit, and we are pleased to see the elimination of origination fees on student loans. But overall, we find the text of the bill to be worrying. We will continue to monitor the progress of the bill, work with peer organizations and make our opinions known to our elected representatives.
If you seek an opportunity to let your elected representative know your opinions regarding matters that impact higher education and those we serve, you can find their contact information at https://www.usa.gov/elected-officials.
Elizabeth (Beth) J. Stroble
President
Julian Z. Schuster
Provost