Podcast: President, Provost Discuss Education Funding, Pell Grants, PROSPER Act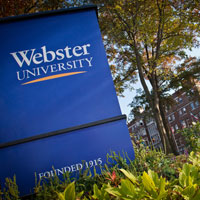 Concerns over student debt and funding mechanisms for higher education have triggered a variety of policy proposals by federal and state governments. But some of the proposals have threatened students' ability to access the very education that can propel them forward and increase their own impact on their communities.
Webster University President Elizabeth (Beth) J. Stroble and Provost Julian Schuster stopped by Webster's Galaxy Radio to discuss recent federal funding news for higher education, including news Pell Grants, SOE Grants and work study, plus on-going proposals to revise the PROSPER Act, and how they directly affect Webster students.
Stroble, Schuster and Webster leaders frequently meet with governmental representatives and peer institutions to discuss how proposed changes would affect access to education and Webster students in particular. The initial budget submitted to Congress by President Trump was bad news for several programs that matter to Webster students.
During the podcast, they discussed some good news from the recently passed federal budget, as well as concerns with how changes to the PROSPER Act would affect Webster students and the national education environment.
Pell Grant, SOE Grants, Work Study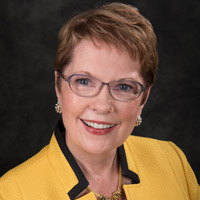 Stroble noted that there was good news coming out of the recently passed budget. It includes "significant increases for student aid funding for the academic year that will begin in July 2018," she said.
"They are directly beneficial to Webster students. An increase in Pell Grants, which are received by 1,200 Webster students right now. There are also an increase in Supplemental Education Opportunity Grants. These really are vital tools for families or employment situations that help students' ability to meet their expected financial contribution. Over 400 Webster students receive SEOG in the current year."
Stroble also said there was good news for federal work study.
"More than 500 Webster students take part in federal work study opportunities on campus and in the community," she said. "The budget as it was signed and approved will allow exemplary programs just like Webster's Student Literacy Corps that to continue to connect our students with struggling readers across the St. Louis region. So students who depend on those programs for their own education as well as to do in the community have been supported in this budget."
Schuster then discussed the PROSPER Act.
Access to Grants and Financing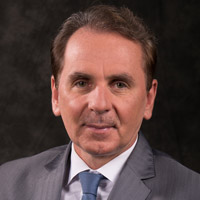 "It's important to see that number of provisions with the PROSPER Act are intertwined with budgetary decisions as well. So we are best advised to keep an eye on the political struggle happening in the capital to resolve these issues. There are a number of proposals for the PROSPER Act which are troubling to higher education — generally around limiting grants, limiting access to grants, and limiting ability to borrow money to finance your education."
Schuster said some of these concerns are mitigated by the new budget that was passed, particularly access to grants. However, there are proposals that still would greatly impact students' ability to finance their education.
"Limiting individuals' ability to borrow based certain majors is directly affecting their access to education. … It's what I would call an unfortunate micromanaging," Schuster said. "Limiting this to specific majors would have a profound effect on students and higher education. … It amounts to interfering with people's choices."
Later, Schuster also raised the issue of how short-term changes can have long-term impacts, as a less educated workforce has a detrimental effect on cities and regions.
"We need more educated citizens. When we limit access to education, this is only one part of the puzzle. There is a multiplier effect which will affect organizations, communities, cities, regions, and ultimately the entire country."
Simplification, but at What Cost?
Stroble noted that while the concerns motivating changes to the PROSPER Act are valid, the proposed solutions do not fit the problem.
"A lot of what has triggered the PROSPER Act and planks of it is this concern nationally about mounting student debt, and there's no question that nationally this needs to be addressed," she said. But at Webster students typically borrow for an undergraduate degree much less than the national average, and their repayment rate far exceeds the national average. So again it's like painting everyone with one brush, when a lot of the student debt that has been created without adequate repayment comes from graduate programs, particularly in law and medicine, and for-profit colleges."
She said some of the intentions to simplify things are well meaning, but "the devil is in the details."
"For example, anyone who has filled out a FAFSA form would probably say it's overly complicated and somewhat difficult to complete. ... But truly for students across the country who are first in their family to go to college, they don't have family support saying, 'Oh yes, I know how to apply for financial aid, I know college is within your reach, they'll put a package together that makes it affordable' -- these students without that kind of support find even the idea of college daunting. They need a roadmap. The idea of making this easier to do is well-intentioned. But the proposals we have seen oversimplify in ways that will do more harm than good."
Stroble also reiterated that "the voices of students matter" in shaping these issues.