2017 International Distinction Award Applications Due March 31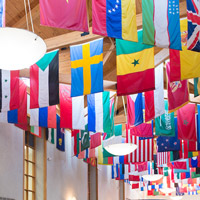 The Office of Academic Affairs is accepting applications from undergraduate students for the 2017 International Distinction Award.
Students who successfully complete all of their requirements for their bachelor's degree and satisfy three core components of international education (second language proficiency, at least one term of study abroad and an international field work/internship) will have their bachelor's degree awarded with 'International Distinction.' The 'International Distinction' designation is annotated on both the student's diploma and official transcript.
Application Process
To apply for International Distinction, students are required to submit the following:
Documentation of their second language proficiency
Documentation of their study abroad location
A detailed description of their field work experience consisting of:
-What they accomplished during this experience
-The total number of international field work experience hours
-A letter of support from their field work experience supervisor
Applications are due by 5 p.m. on Friday, March 31, and should be sent to Allison Scheuler in the Office of Academic Affairs at allisonscheuler@webster.edu.
For more information regarding award requirements, visit the International Distinction webpage at webster.edu/ida.