Study Abroad: Psychology majors study, blog in Athens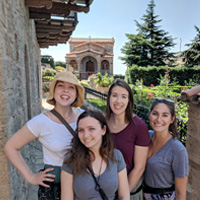 Webster University psychology majors Lily Davis, Rachel Downey, Reese Moore, and Emilia Triola are currently participating in the thematic "Global Health and Inequality" study abroad experience at the Webster campus in Athens, Greece.
Led by associate professor of Psychology Eric Goedereis, the students from the Webster Groves campus are enrolled in two, three-credit courses, plus a one-credit International Field Experience.
Students' Travel Blog
As part of his PSYC 2000 (Issues in Contemporary Psychology): The Psychology of Inequality, Goedereis's students blog about various issues related to inequality. Students also reflect on their experiences studying abroad and in participating in the field experience component of the program. Follow their blog and participate in the discussion at psycinequality.blogspot.com/.

Covering various topics, the second course, POLT 1000: Inequality and Security, is being co-taught by Webster Athens professors John Dumont, John Nomikos, and Susie Michailidis. As part of this course, Dumont and Nomikos recently accompanied students on a visit to the International Organization for Migration (IOM) in Athens. The IOM highlighted their visit via various social media channels, including Facebook, Twitter, and Instagram.
More from Athens
See more about the students' activities, including volunteering at a refugee center, in this story from the end of their summer study abroad term.
In addition to their courses and fieldwork, the students have also had the opportunity to visit a number of historical and cultural sites. Check out the class blog for several photos, which are updated regularly.
Study Abroad at Webster
For more information on Study Abroad options at Webster University, as well as various scholarship opportunities, please visit webster.edu/study-abroad.