Racism, Race and the Coronavirus: Webster World Report Podcast 9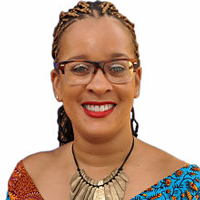 The ninth edition of the Webster World Report podcast, a discussion linking Webster University's global operations, features in-depth interviews this week from Accra, Ghana, and St. Louis, USA, to discuss racism, race and its relation to the coronavirus pandemic.
The program also deals with various national and worldwide reactions to the killing of George Floyd, an unarmed African American man, in Minneapolis by police.
This edition includes interviews with: Christa Sanders, director of Webster University Ghana; and Jameca Woody Cooper, an adjunct professor for the School of Education who is a licensed psychologist and has seen the pandemic's impact on mental health and in particular on marginalized communities.
Speaking to the protests sparked by Floyd's death, Sanders said, "This is such an important time in our history." She said people at Webster Ghana were touched by Webster's erection of a banner with "Black Lives Matter!" on the main campus. "This has been embraced by the world," she said. "This is no longer a black issue. It is no longer seen as a radical movement. It is about human rights."
Cooper discussed the sustained impact of the pandemic on these communities. "There are numerous factors, but the big issues boil down to underlying health issues we see in these populations, and health insurance issues."
The news segment of the program features an excerpt from the podcasting project on global citizenship produced by Webster University's Leiden campus and the excerpt features Nives Rumenjak, Chair of the International Relations program in Leiden. The Leiden podcast project was produced by Adam Frick-Verdine.
Listen to this edition of the Webster World Report on SoundCloud here.