Effects of Global Pandemic, BLM in Ghana, Stress Relief: Webster World Report Podcast 10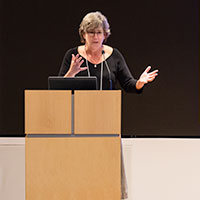 The tenth edition of the Webster World Report, the discussion linking Webster University's global operations during this year of crises, features a panel-style discussion this week with two of Webster's international relations faculty about the effects of the pandemic on the global scene.
This panel discussion includes Kelly-Kate Pease from the main campus in Webster Groves; and Franco Algieri from Webster University Vienna. Topics range from the current state of diplomacy, police brutality, and human rights in the U.S. in the wake of the George Floyd protests.
The news segment of the program features short audio with Director Christa Sanders of Webster University Ghana about the Black Lives Matter signs; Mjiba Frehiwot, of the University of Ghana who is also a visiting professor at Webster University Ghana, discussing Juneteenth; and Amanda Kracen of the Psychology Department on the main campus discussing stress relief during the pandemic.