Ramadan May 6-June 4, Notes for Webster Community Members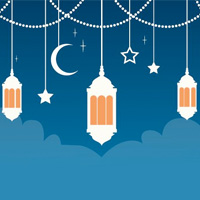 Please join us in wishing our Muslim faculty, staff and students a joyful season of Ramadan. This is the first year in many years that Ramadan has begun during the end of the school year.
The Council on American Islamic Relations (CAIR) recently published the 2019 Educator's Guide to Ramadan. This guide provides guidance to understanding the unique challenges for Muslim students who fast in Ramadan, highlights religious accommodation options for schools as well as gives general advice on how to create a more welcoming environment to better student's education.
In addition, we wanted to draw your attention to a few events and points of interest surrounding the celebration of Ramadan on the St. Louis campus.
Ramadan Iftar/Dinner
There will be a Ramadan Iftar/Dinner in the University Center's Sunnen Lounge, on Wednesday, May 8. Iftar starts at 8 p.m., Isha at 9:24). Everyone is welcome!
Please use Online Registration to let organizers know if you can attend this event. RSVP here.
Sponsored by Webster University, MCISA, MSA and Webster students, faculty and staff.
Message to Faculty
Finally, a special note to professors with night classes this summer – Ramadan started on May 6 and will end around June 4. If you have students who are observing Ramadan, please consider the timing of your breaks during the evening classes. Students are able to break their fast at sundown, so allowing them to quietly step out to have a drink or bite to eat — or simply scheduling your break close to sundown — would be very helpful to them.