Syrian Refugee and Activist Rania Ali Awarded Scholarship at Webster Vienna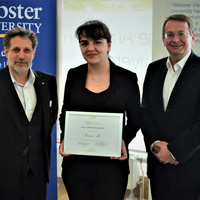 Webster Vienna Private University, Webster's campus in the Austrian capital, has awarded a full-time scholarship to Syrian journalist Rania Ali, who will enroll at the Webster Vienna campus in the International Relations bachelor's program beginning Fall I.
Ali's journey is unique. Born in 1995, she escaped her hometown of Raqqa, Syria in 2014 when it fell to the Islamic State group. In 2016, Ms. Ali fled Syria for Europe, filming every step.
Her journey was later turned into the documentary, Escape from Syria: Rania's Odyssey. The video which has been viewed over 1 million times and shared over 93,000 times, won a Webby Award and received the One World Media Award.
An aspiring journalist, Ali is legally based in Austria and a sought-after speaker on refugee and migration topics, she is also extremely eager to pursue her education.
Keynoting at a major event sponsored by the Austrian Parliament in September 2018, Ali said, "The springboard for my future was a source of great frustration, and at times, rage. More than anything in the world, I want to go to university - that was one of reasons why I had escaped, why I had experienced being shot at and nearly drowned. University would be my stepping stone to a normal life; I want a BA and eventually a PhD."
Ali is one of many standout students awarded scholarships for the coming academic year, and will be joining a competitive international student body at Webster Vienna. The University looks forward to having Ali and the rest of the Class of 2023 join them this fall!