Webster Receives Reaffirmation of Accreditation from HLC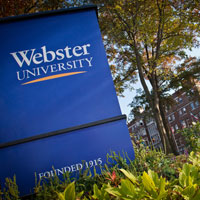 The Higher Learning Commission (HLC) has reaffirmed accreditation of Webster University, in an action taken by the Institutional Actions Council of the HLC at its meeting on July 30.
HLC accredits degree-granting post-secondary educational institutions in the North Central region, encompassing 19 states, including Missouri, where Webster University's main campus is located. Webster University has been accredited by HLC continuously since 1925, and this accreditation applies to every Webster campus and location across the United States, internationally and online.
The reaffirmation concludes the 10-year cycle under the HLC's Open Pathway program, a process that includes self-evaluation steps, compliance reports, collection of evidence, quality improvement initiatives, and interim visits leading up to a peer review team's comprehensive evaluation and visit, which was conducted at the Webster Groves campus in spring 2018.
Under this program, the next Reaffirmation of Accreditation will take place in 2027-28.
"This outstanding news would not be possible without the concerted effort of our entire Webster community to complete the steps in this 10-year cycle, including hosting HLC team visits at extended U.S. and international campus locations," said Webster University President Elizabeth (Beth) J. Stroble. "Although accreditation is an on-going process, particular thanks for the past two years of work go to Vice Provost Nancy Hellerud and the entire working group who solicited and organized information from Webster's global network to create the Assurance Argument and Evidence File, and to those from many campuses and units who participated in interviews and open forums with the HLC review team."
"The results of this peer review process affirm many of the pioneer initiatives under Webster's strategic plan, which has proven to be the central framework through which quality improvements are made and, ultimately, reaffirmation is achieved," said Julian Schuster, Webster's provost, senior vice president and chief operating officer. "We will continue and enhance these initiatives, like the comprehensive program review begun in 2012-13, to ensure high-quality learning experiences and outcomes for our students."
The HLC's criteria for accreditation cover a range of areas including institutional mission, ethical and responsible conduct, teaching and learning, and resources, planning and institutional effectiveness. In conjunction with its reaffirmation action, HLC requested two interim monitoring reports regarding academic program review, and enrollment and finances, to be submitted on July 1, 2020.
"The Open Pathway program is a continual approach to self-evaluation and accreditation that provides opportunities for on-going improvement," Stroble said. "The next two interim reports will cover areas that the University is already fully engaged in addressing. Progress on implementing a formalized program review practice continues, and the entire community through the steering committee and implementation teams is currently engaged in a three-year plan approved by the board of trustees to improve Webster's financial and academic position."
During the previous 10-year review cycle, Webster, like many institutions, was asked to provide interim reporting about plans and progress in assessing student learning. The actions taken during that cycle reflect successful follow-up in an area that has since become an institutional strength.