Reese, Ridenhour Named NCAA Division III Track and Field All-American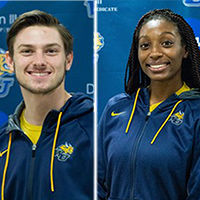 Junior Jacob Ridenhour and senior Daisha Reece have both been named an NCAA Division III All-American by the United States Track & Field and Cross Country Coaches Association. Reece takes on one honor, while Ridenhour earned two.
Ridenhour earned All-American honors during the 2020 indoor season in both the 60-meter and 200-meter dashes after qualifying for the NCAA Division III Indoor Championships in those two events. He is one of 45 Division III student athletes that earned All-America honors in at least two events during the indoor season, including seven different athletes earning All-America honors in three events.

The All-American honors for Ridenhour during the indoor season mark the first time in school history that a Gorlok men's track and field athlete has earned All-American honors in indoor track and the second time in his collegiate career that Ridenhour earned All-America accolades as he was tabbed an All-American in the 200-meter dash after finishing as the national runner-up in the event at the 2019 NCAA Division III Outdoor Track and Field Championships.
Ridenhour is now the first-ever three-time All-American in track and field in Webster history and with one more season left in 2021.
Reece becomes the first-ever Gorlok female track and field athlete to earn All-American honors. She earns her All-American honor after recording the 20th best long jump in Division III during the 2020 indoor season to qualify for the NCAA Division III Indoor Track & Field Championships.
Reece had a strong senior year campaign as she recorded a new school record leap of 5.58 meters in the long jump at this year's inaugural St. Louis Intercollegiate Athletic Conference Indoor Track and Field Championships to earn a gold medal in the event. Along with winning the gold medal in the long jump at the SLIAC Championships, Reece also earned All-SLIAC honors in the 60-meter dash, long jump and high jump and was named the SLIAC Indoor Field Athlete of the Year.
Reece is the only female track and field athlete from the SLIAC to earn All-American honors from the USTFCCCA in indoor track this season.