The Reflective Teaching Community Announces New Remote Sessions for Faculty Worldwide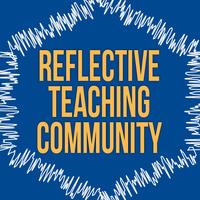 Based on growing demand, the Reflective Teaching Community announces that it will hold remote sessions of the learning community via WebEx beginning in January.
These sessions continue the learning community's year-long exploration of the theme of experiential and place-based learning, opening up these conversations to faculty across our network. In order to accommodate as many locations as possible, these sessions will be held at 8:30 or 9 a.m. central time.
These sessions will be co-hosted by the Faculty Development Center and the Online Learning Center, and all full-time and part-time instructors across Webster's worldwide network are invited to join us, including on-ground instructors, online instructors, and WebNet+ instructors. These informal conversations are opportunities to share effective teaching strategies and build community across the network.
Reflective Teaching Community Schedule
Topics and WebEx link
Thursday, Jan. 16, 9 a.m.
Topic: Exploring Experiential and Place-based learning
Facilitator: Kim Kleinman, director, Undergraduate Advising
Register Here
Thursday, Jan. 23, 9 a.m.
Topic: Global Learning and Underrepresented Students
Facilitator: Emmanuel Balogun, assistant professor, Dept. of History, Politics, and International Relations and Kate Parsons, professor, Dept. of Philosophy
Register Here
Thursday, Feb. 13, 9 a.m.
Topic: Experiential Learning Experiences in the Classroom
Facilitator: Jan Palmer, associate professor, Dept. of Nursing
Register Here
Thursday, Mar. 19, 8:30 a.m.
Topic: Keeping Students Engaged with Inquiry Methods
Facilitator: Eric Goedereis, associate professor, Dept. of Psychology
Register Here
Thursday, Apr. 9, 9 a.m.
Topic: Helping Students Make Connections between Course Concepts and Career Goals
Facilitator: Melissa Spriggs, assistant professor, Human Services
Register Here
For more information, or to view the complete list of both in-person and remote RTC sessions, please see the RTC website.