Reflective Teaching Community Meeting, Oct. 5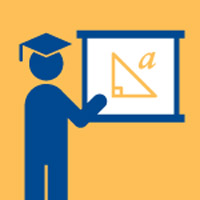 The October meeting of the 2018-19 Reflective Teaching Community (RTC) will be Friday, Oct. 5, 12-1 p.m. All part-time and full-time faculty and academic partners are invited to join the group for discussion and a pizza lunch in the Faculty Development Center Suite (Emerson Library 420). Dr. Carla Colletti will facilitate the topic "How Do I Know Whether My Students Are Getting It?".
Continuing to explore this year's theme, "Knowing We Matter: Assessing Our Impact in the Classroom," this session of RTC will be dedicated to sharing how we create opportunities to assess our students' learning as we teach. What sorts of classroom assessment techniques do Webster instructors like to use, and what do we think works? How do we build skills such as self-reflection, resilience, and metacognition into such assessments? And how do we close the loop by using our students' feedback to inform our teaching?
To RSVP for the October meeting, or for more information about engaged learning at Webster, please contact Erik Palmore at palmoeri@webster.edu.
RTC 2018-2019 Schedule
Oct. 5
How Do I Know Whether My Students Are Getting It?
Facilitator: Carla Colletti, Music Department
Nov. 2
What I'm Doing in the Classroom Working?
Facilitator: Bruce Umbaugh, Department of Philosophy
Dec. 7
I Have No Time! Creating Change Amidst the Hustle
Facilitator: David Werfelmann, Music Department
Feb. 1
Please Read My Comments!
Facilitator: Morgan Grotewiel, Department of Psychology
Mar. 1
Teaching with Empathy and Analyzing My Implicit Biases
Facilitator: Muthoni Musangali, Department of Professional Counseling
Apr. 5
Becoming a Scholarly Teacher
Facilitator: Victoria McMullen, Department of Teacher Education