Remembering Harry Fisher, Longtime CMS Donor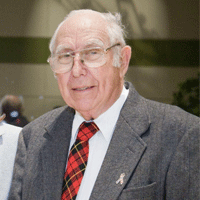 The Webster University community mourns the passing of longtime Community Music School (CMS) supporter and benefactor Harry Fisher on Nov. 19. Read the obituary here.
Harry and his wife, Arden, have been generous and active supporters of the CMS for decades, beginning in 1994 from the time that CMS was named the Saint Louis Symphony Community Music School. Some of their contributions include the Arden and Harry Fisher Endowed Piano Scholarship; the Arden and Harry Fisher Endowed Woodwind Scholarship; initiating and sponsoring the CMS Young Composers Competition; providing the funding for hand rails leading up the stairs to the stage; and other CMS programs including Explore Music!, the Summer Composition Intensive, and the Chamber Music Encounter.
Harry was an avid writer and gifted CMS Director Carol Commerford with two of his books, Advice to Divers and North Clope, in addition to an original play, Courage.
Arden and Harry were awarded Webster University's Visionary Award in 2017 for their dedication to giving hundreds of aspiring musicians opportunities to reach their dreams. In the following video, hear the Fisher's discuss their love of music and why they support the Community Music School.