Athens Students Present at RAD Conference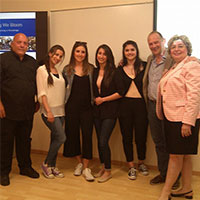 The twice-per-year Research Across Disciplines (RAD) conference in St. Louis has grown over the past two years, expanding to provide students from any campus across the global network the opportunity to participate via pre-recorded presentations or live video conference presentations.
That effort has drawn Webster student presenters from from Geneva, Vienna, Zurich, and more as well as students from Webster's online learning environment.
This past weekend's conference May 5-6 was no different, including students Sally Talal and Maria Stoli, who presented their oral presentation via teleconference from the Athens campus.
Their presentation involved tackling the research of "The Role of Arts in Learning or Knowledge," or as they call their presentation: "In Learning we Bloom."
Their presentations portrayed lessons, tested abilities, and demonstrated development according to Plato's In the Art of Learning and the Theories of Knowledge.
"We can drink in all the knowledge which once was a stranger to us, we can see that knowledge no longer chases us," Talal said. "It is we who are chasing it by choice as it will open our minds and lead us through a pathway of new experiences."
"Paths foreign to us filled with obstacles and challenges will drive us to higher levels," Stolie said. "As the Greek writer Nikos Kazantzakis wrote: 'Reach what you cannot, my child. Don't feel bad if you played well and you lost. Feel ashamed when you played bad and you won.'"