Call for Submissions: Research Across Disciplines (RAD) Conference Fall 2017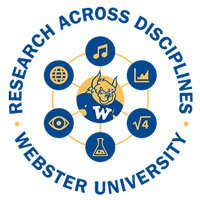 The submission period is now open for Webster's Fall 2017 Research Across Disciplines (RAD) conference, to be held Friday, Dec. 15, in Browning Hall and the East Academic Building on the Webster Groves main campus, with opportunities for extended campus and online students to participate remotely.
RAD is open to both undergraduate and graduate students from any discipline, studying anywhere in Webster's network (including global and online). Over the years, we've had some truly excellent projects, from gigantic creative displays covering U.S. history to more traditional academic talks and posters summarizing students' thesis projects in various fields.

Faculty encouragement is critical to student participation. All that is needed for submission is a 150-200 word abstract describing the project, a title of the work, and the name of the Faculty Sponsor. This means that students do not need completed results to submit; interested students can submit abstracts of the work they are currently pursuing, with the understanding that they would present the work in its completed form once the actual conference rolls around in December.
Details about the submission process, as well as the submission portal, can be found here.
"Undergraduate and graduate students engaged in collaborative research and creative projects at our extended domestic and international sites, as well as those students enrolled in fully online programs with a research component, will have the opportunity to present their work to an audience of interested faculty, staff, students, administrators, and members of the community," said Eric Goedereis, associate professor, psychology, who is serving as faculty lead and mentor for the conference. "Opportunities like the RAD conference go a long way in strengthening our institution's commitment to the high-impact practice of student-driven research."
Showcase Student Work
Students are encouraged to take advantage of this opportunity to showcase their research, scholarship, or creative projects and gain valuable experience for their academic careers.
Presentations in all fields and disciplines, and from both undergraduate and graduate authors, are welcome. As part of their submission, students will be required to include the name of a faculty sponsor/mentor and a short abstract describing their project. Presentations can take the form of a professional poster, an oral presentation, or a visual arts display. Extended and online students will have the option to present via recorded presentation or live teleconference.
Details: Deadline Extended
The deadline for submissions has been extended. Submissions are being accepted now through Nov. 10 at 5 p.m. CST. For more information, including a link to the submission form, please visit the RAD website.