Attend Research Across Disciplines Dec. 9-10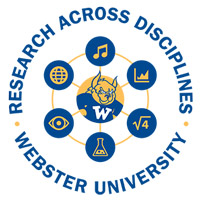 Webster's bi-annual student research conference, Research Across Disciplines (RAD), will take place Friday and Saturday, Dec. 9-10, in the East Academic Building on the Webster Groves main campus.

The conference showcases the scholastic and creative efforts of undergraduate and graduate students from around the region and across a variety of academic fields. In addition, the conference is being expanded this year to include Webster students from across the global network who will be able to present their work via teleconference.

"This means that students conducting collaborative research at our extended domestic and international sites, as well as those students enrolled in fully online programs with a research component, will have the opportunity to present their work to an audience of interested faculty, staff, students, administrators, and members of the community," said Eric Goedereis, associate professor, psychology, who is serving as faculty lead and mentor for the conference, which is sponsored by the Office of Academic Affairs.

Collaborative research is widely and increasingly recognized as a high-impact educational practice, and the RAD conference is one of the more visible examples of Webster's commitment to this important aspect of student scholarship. Faculty, students, and administrators are encouraged to attend RAD conference sessions in order to support students and recognize the hard work that has gone into their projects.

"Opportunities like the RAD conference go a long way in strengthening our institution's commitment to student-driven research," said Goedereis. "By organizing the conference and purposefully making it inclusive of all disciplines, Webster is putting into place a concrete initiative aimed at promoting a culture of student-driven research at our university."

For more information about the conference, including a submission form and helps for students in preparing their presentations, visit the RAD website at webster.edu/rad.