Attend Research Across Disciplines May 5-6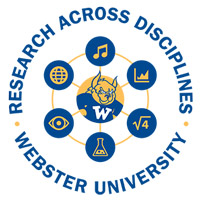 Webster's bi-annual student research conference, Research Across Disciplines (RAD), will take place Friday and Saturday, May 5-6, in the East Academic Building on the Webster Groves main campus.

The conference kicks off with opening remarks beginning at 9 a.m. each day, with concurrent research and creative presentations by students starting at 9:30 a.m. Over the course of the two days, 72 undergraduate and graduate students from across Webster's global network, representing 16 academic departments, will present their projects via oral talks, posters, and creative displays.
Associate professor of Psychology Eric Goedereis serves as faculty lead and mentor for the conference, which is sponsored by the Office of Academic Affairs. Goedereis encourages Webster faculty and staff to attend a session or two to support RAD students and their faculty mentors.
RAD Conference Schedule
An overview of the conference schedule is now available; a detailed schedule of presenters and their topics will be posted closer to the event date.

Why RAD?

Collaborative research is widely and increasingly recognized as a high-impact educational practice, and the RAD conference is one of the more visible examples of Webster's commitment to this important aspect of student scholarship. Faculty, students, and administrators are encouraged to attend RAD conference sessions in order to support students and recognize the hard work that has gone into their projects.

For more information about the conference, including a submission form and helps for students in preparing their presentations, visit the RAD website at webster.edu/rad.