Faculty Attend Research Conference in D.C.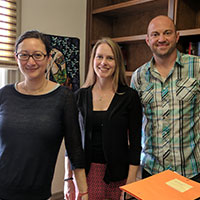 With support from the new Office of Research and Sponsored Programs (ORSP), three Webster University faculty members traveled to Arlington, Virginia, in February to attend the 2017 Council on Undergraduate Research (CUR) Dialogues series.
The annual CUR Dialogues bring faculty and administrators to the Washington, D.C., metro area to interact with federal agency program officers and other grant funders. The theme of the 2017 event was "Reigniting Research: Identifying and Pursuing Diverse Options."
Elsa Fan, assistant professor, Department of Anthropology and Sociology; Nicole Miller-Struttmann, assistant professor, Department of Biological Sciences; and Eric Goedereis, associate professor, Department of Psychology, joined peers from across the country o learn about the latest trends in higher education relevant to undergraduate research and to network with others interested in pursuing or supporting grant opportunities in research and education.
Fan: Advancing HIV, Pharmaceutical Research
For Fan, whose current research examines issues around identity, belonging and exclusion among men who have sex with men at risk for HIV in China, it was a valuable opportunity to learn more about grant opportunities that will help foster broad dissemination of her findings. It also helped with identifying support for her next research project, which will explore the global circulation of pharmaceuticals between China and Africa.
At the conference, she attended many helpful sessions that provided guidance on putting together successful grant proposals and was able to meet with key program officers from federal funding agencies. Fan was able to target specific NSF grant competitions as she develops her grant proposal over the summer.
Miller-Struttmann: Ecology of Plant Pollinator Interactions
Miller-Struttmann studies the ecology and evolution of plant pollinator interactions. She found the grantwriting workshops offered by successful awardees of federal funding to be most valuable. Program officers are eager to work with principal investigators as they develop proposals and are enthusiastic to fund high-quality projects at primarily undergraduate institutions like Webster.
Related: Help local bee research with Miller-Strutmann by spotting bees in Forest Park June 17
Program officers and review panelists recognize that the pace of productivity should match the research time available to the PI's at different institutions. The organizers stressed, however, that this is not a detriment to the proposal; in fact, different (often underused) funds are available for projects at institutions such as ours. Hearing about this from program officers themselves demystifies the process and encourage successful proposals.
Miller-Struttmann will employ this learning as she works to polish a current proposal with collaborators and to inform her research this summer, which she hopes will be proof of concept for an NSF proposal next fall.
Goedereis: Building Research Capacity
In his new role as faculty research director and advisor to the ORSP at Webster, Goedereis attended several workshops on best practices for fledgling research offices. Goedereis recognizes Webster's strategic investments and commitment to supporting faculty and student scholarship, yet acknowledges the challenges of this shifting environment.
"With the receipt of the BRAD award, in some ways, we've found ourselves having to learn on the fly," he says. "Having the opportunity to learn from experienced Sponsored Programs staff and successful, veteran faculty researchers was really beneficial to my role as Faculty Research Director and advisor to ORSP."
Goedereis plans to put into place many of the lessons he learned at CUR Dialogues in order to cultivate strong, mutually beneficial relationships between the ORSP and faculty interested in pursuing diverse research opportunities. He also attended various sessions on specific funding opportunities and came away particularly excited to learn about the Global Initiatives efforts through the Office of International and Integrative Activities of the NSF.
Aimed at funding international research opportunities for students and their faculty mentors, Goedereis says that he is optimistic about this funding mechanism. "After speaking with the Program Coordinator, I came away confident that Webster faculty would be well-positioned to compete for these grants", said Goedereis. "I look forward to working with interested faculty to develop a plan so that we can make this exciting opportunity a reality."
Next CUR
The 2018 CUR Dialogues event is set for Feb. 15-17, 2018. Faculty interested in pursuing this opportunity are invited to contact Eric Goedereis at ericgoedereis18@webster.edu in order to discuss fit.