Residential Housing to Host Blood Drive Feb. 5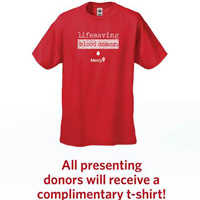 Webster University's Residential Housing Association (RHA) is excited to partner with a new donation center, Mercy Health Systems, for its third blood drive of the year.
The Blood Drive will take place Monday, Feb. 5, from 10 a.m.- 3 p.m. in the University Center's Sunnen Lounge. All donors will receive a free t-shirt.
RHA's new partnership with Mercy, a local partner with a longstanding relationship with Webster University will continue RHA's tradition of offering blood drives for students, faculty, staff, and community members to donate. These drives provide an opportunity to give back while supporting a student-led effort to encourage wellness and service.
To register contact the RHA at 314-246-4742 or online at www.MercyBloodDonor.net. Walk-ins are also welcome.
For questions, contact Jay Davis, community director, Office of Housing and Residential Life.