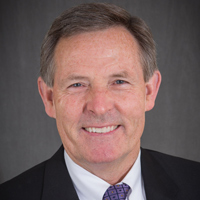 Dr. Robert Parrent, vice president for Enrollment Management and Student Affairs, has announced his retirement from Webster University, effective May 31.
During his time at Webster, Parrent had a major impact on the University's reach and enrollment of students in the St. Louis area.
He joined Webster in 2013 and led the efforts to merge Enrollment Management with Student Affairs. Parrent and his team were responsible for recruiting the largest freshmen class ever for Webster in 2017, and three of the largest incoming classes in Webster history.
"We appreciate the contributions Rob has made to Webster," said Julian Schuster, Webster's provost, senior vice president and chief operating officer. "He has improved student services and recruitment. We wish him well and happy travels in his retirement."
During his time at Webster, among Parrent's achievements were: working with Pres. Elizabeth (Beth) J. Stroble to establish the University's Suggs Scholarship program; initiating the use of enrollment automation technology; adding various residence options to the the University's housing portfolio; instituting new first year experience programs for students and new retention methods; strengthening the recruitment of high-achieving students and improving the rigor of programs for new students; deploying new techniques for the recruitment of undergraduate students (including the use of outside vendors such as Ruffalo Noel Levitz); reforming the system of graduate recruiting on the Webster Groves campus; acquiring document imaging software for a wide variety of University units; and optimizing the staff of Enrollment Management and Student Affairs for stronger efficiencies and cost savings. Also, during his time at Webster, the University was named to the Phi Theta Kappa Transfer Honor Roll for three consecutive years. The Honor Roll recognizes academic institutions that offer the best services to students who are transferring from a community college to pursue a bachelor's degree.
"It is with bittersweet emotion that I share that I will be leaving the University to accept a new role as Dr. Grandparrent. I am enthused about what awaits me: this new path of retirement and new direction as Grandpa are both largely still undefined," Parrent said. "My six years of service at Webster have shaped and touched me and for this reason, among many others, this decision has been difficult to reach. May God bless each and every one of you, and may you be as lucky as I have been to work with such wonderful and caring friends and colleagues. Ever onward!"
Parrent has more than 40 years of higher education experience, including leadership roles in enrollment and admissions at the University of Louisville, the University of Tennessee at Chattanooga, and Midway College. Prior to joining Webster, Parrent was Vice President for Enrollment Management at the University of Central Arkansas, Vice President for Student Affairs at the University of Southern Indiana, and Associate Vice President for Enrollment Management at Southeast Missouri State University. He also has corporate experience as Chief Operations Officer for Sheldon Management and Consulting in Bowling Green, Kentucky. Parrent holds a Doctorate in Higher Education Administration from Indiana University, a Master of Arts in College Student Personnel Administration, and a Bachelor of Arts in History, both from Western Kentucky University.
Farewell Reception
A retirement reception will be held for Rob at 3 p.m. on Thursday, May 16, in East Academic Building 253/262. All are welcome.