Rolla Marks Counseling Faculty 20-Year Anniversaries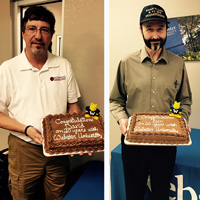 The Rolla Metro campus location recently celebrated two adjunct faculty members who marked 20 years teaching in the Counseling program at Webster University.
At a reception for David Duncan, he spoke of his career in mental health services and how he's tried to bring that experience to the classroom.
"I see it as my responsibility as someone who has been providing mental health services since 1975 to train, mentor and encourage those entering the field 40-plus years later," Duncan said.
Duncan is a Community Mental Health Liaison at Pathways Community Healthcare, and has worked with the Rolla community since 1984. He was responsible for the merger of his previous company, FOCUS, for which he served as chief executive officer, with Pathways in 1999. He has served Pathways in various capacities, as a professional counselor and as vice president of operations.
"I treasure the interactions with students, and I feel blessed to have your guidance and the support of Tracie [Isakson], Jake [Hale], and the faculty," Duncan wrote to campus director Keri Stripling afterward. "We have a great team in Rolla, and I hope to continue to collaborate with you all for years to come."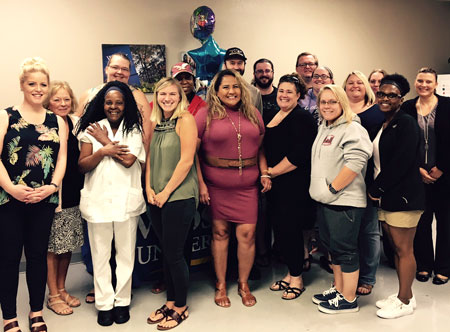 Ben Shriver's dedication to Webster University and the students in the MA in Counseling program also goes back 20 years, and is apparent through his awards and recognitions, including a 2010 Webster University Staff Member of the Year award for his work as faculty coordinator.
"Working with Webster University is one of the greatest experiences in my life," Shriver said. "The staff and students are the best in the world, and the efforts to make my 20 year award special are greatly appreciated."
In addition to teaching, Ben Shriver practices as a counselor for DWI and substance abuse programs.
"We are fortunate to have such dedicated faculty members at Rolla Metro," Stripling said. "In their combined 40 years of teaching in our Counseling program, David and Ben have made such positive impacts on current and former students, mentoring and shaping them into who they are and how they practice the art of counseling. We are proud to have them continue to shape our future counselors."