Reflective Teaching Community Meeting, March 1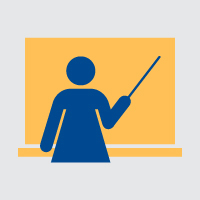 The next meeting of the Reflective Teaching Community (RTC) will be Friday, March 1, from 12-1 p.m. Muthoni Musangali, Associate Professor in the Dept. of Professional Counseling, will facilitate our session, Teaching with Empathy and Analyzing My Implicit Biases.
As we assess our impact in the classroom, we also see the value in assessing how our implicit biases affect how we interact with students and how we conceive of their motivations. This session focuses on how self-reflection of our conscious and unconscious biases can lead us to greater empathy as teachers, helping to give us confidence that we can better serve all our students.
The Faculty Development Center invites all full-time and part-time faculty and academic partners to participate in these monthly discussions and to join us for a pizza lunch. All of our meetings are held on Fridays from 12-1 p.m. in the Faculty Development Center Suite, Emerson Library 420.
To RSVP for the November meeting, or for more information about engaged learning at Webster, please contact Faculty Development Coordinator, Liza Dister.
Upcoming RTC Meeting
Apr. 5 - Becoming a Scholarly Teacher, Facilitator: Victoria McMullen, Department of Teacher Education