Safety Measures, Expectations and Preparation for Returning to Campus in Fall 2020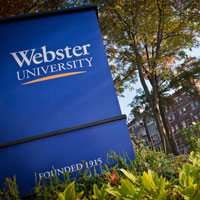 The following message from the Task Force on Transition & Adaptability and President Julian Z. Schuster was distributed on July 31.
Dear Webster University Students and Families:
Throughout this summer we have been preparing to welcome you back to our campuses this fall! While we are looking forward to your arrival, we also know you have many questions about how things will look on our campuses. To meet the diverse needs of our students, our entire community has thoughtfully evaluated and implemented many steps to safely build community on campus and provide in-person instruction in Fall 2020. Safety continues to be our number one priority, and we will continually adapt as we learn more about ways to mitigate the spread of COVID 19.
In this message you will find:
Safety measures we've implemented and expectations for you on campus (daily health screening, social distancing rules, hand washing, disinfection, in-class expectations, monitoring for positive cases)
Information specific to the Webster Groves campus (building access, dining, restrictions on visitors, upcoming info sessions for students)
Course modality updates (changes to several graduate programs, and when to expect updates to undergraduate course schedules)
Overview of Safety Measures
We have developed a number of modifications and safety measures based on guidance from public health officials and the Centers for Disease Controls (CDC). Our employees have pledged to follow these to keep our community safe, and we will ask students to likewise pledge to follow this guidance in order to maintain a safe environment on campus.
The latest public health guidance indicates that preventing spread of the coronavirus includes the following approaches:
Maintain social distancing (at least six feet apart) in classrooms, labs, study spaces, common areas;
Wear facial coverings/masks over mouth and nose – facial shields alone are not sufficient;
Daily health screening applications to monitor for COVID-19 symptoms;
Frequent hand washing and other measures supporting hygiene;
Disinfecting surfaces and common areas after each use;
Prohibiting large-scale gatherings and events;
Reducing density in residential, academic and office spaces.
We have implemented measures that address all of these approaches. Below you will find an overview of how these measures will affect you on a typical day. These include expectations we have for you while on campus and in class at any Webster U.S. location, plus select topics that are specific to the main (residential) campus in Webster Groves. This information is also posted and frequently updated on the webster.edu/covid19 site:
Daily Health Screening
Before you come to campus or leave your resident lodging each day, you should complete the daily health screening at healthform.webster.edu. The screening includes a temperature check, so you'll want to have a thermometer. At the main campus, those who are unable to complete the self-assessment may do so at the Public Safety office.
Masks/Facial Coverings
Everyone on campus must wear a mask covering their nose and mouth while indoors, including while in class, and in outdoor areas where social distancing isn't possible. See full info and definitions in the Facial Covering Policy. Forget your mask? Disposable mask dispensers will also be available at academic building entrances, and sanitizers will be prevalent throughout campus.
Social Distancing
Remember, masks are not a substitute for social distancing and social distancing is not a substitute for a mask. But you can still see your friends! You'll just need to see them, and anyone else, from six feet away. To support this, we have:
Reduced the density of work spaces, residence halls and classrooms;
Added social distance and directional signage across campus;
Reduced occupancy in elevators and other places where people gather or line up;
Installed Plexiglas barriers like those seen in grocery store checkout lanes.
Access to Buildings
On the main campus in Webster Groves, there will be designated entry points to each building, and access will be restricted to students, faculty and employees with a valid ID. You'll want to keep your Webster ID on you at all times:
Your ID card (to swipe for access) and daily health screening are required to enter on-campus buildings;
Personnel will staff each entry point and verify that you have passed your daily health screening;
Guests and visitors will not be allowed on campus. This includes in the Housing & Residential Life areas. Students who do not reside in a building will not be granted access to that space.
Hand Washing and Hygiene
Frequent, thorough hand washing should be practiced throughout the day, including before and after touching common surfaces. Hand sanitizer dispensers and signage about hand hygiene are placed throughout campus.
Disinfection
It is everyone's responsibility to participate in the cleaning and disinfection of shared surfaces when you have finished using common items such as tables and desks, electronics/keyboards, light switches and faucets and more. To support this:
Disinfection materials such as wipes and sprays are available throughout the University buildings and in common shared areas;
Common shared areas in buildings are frequently disinfected by a commercial cleaning crew;
New equipment has been purchased to disinfect complex surfaces.

In-Class Expectations
Your professors are eager to see you, and they've been preparing for multiple scenarios this fall. We can all help each other work through this unique time together. Remember:
Everyone in a classroom will be required to wear a mask at all times;
Maintain social distance in classrooms with seating and while entering and exiting;
Food and drink will not be allowed in class;
Feeling sick? Do not go to class.
You will be asked to disinfect the items you used during class or labs before leaving the room.
Dining
In Webster Groves, we will re-open campus dining but limit services only to students, to reduce traffic. You'll also be able to order food ahead of time for pick-up via an app on your phone.
Response to Positive or Suspected Cases
If you suspect you have COVID symptoms, or if you've been exposed to someone (for 15 minutes at a distance less than six feet) who does, follow these steps:
Commuter students should reach out to the Student Health Services Department if they have been diagnosed with and/or identified as being a close contact to a person who has COVID-19;
Residential student should notify Housing and Residential Life staff if they have been diagnosed with and/or identified as being a close contact to a person that has COVID-19. Housing & Residential Life is prepared to execute isolation housing plans for these individuals – including the potential of relocation (based on where they reside), dining service delivery, and other essential items.
Quarantine and Testing
Many have asked about quarantines and testing before they arrive to campus. As "community spread" has occurred throughout the United States, students will not be asked to start the term in quarantine or take a pre-emptive test simply because they're arriving from a different state or country. However, we will urge everyone to exercise extra caution in the first two weeks, limiting events and interactions as we re-enter the campus environment. During this time and throughout the fall, it is vitally important that you be vigilant in following the above safety guidelines both while on campus and when moving to and from campus.
Questions about Classes and Course Scheduling
For undergraduate students on the main campus, Webster University will offer classes in a variety of modalities, including face-to-face combined with virtual experiences, fully remote opportunities and – as always – online options. We are currently determining the modality for individual courses, and the Fall 2020 schedule will be updated by mid-August to reflect how the course will be offered. An FAQ on academic questions will soon be available, and the Academic Advising Center will be ready to assist!
For graduate students, see this announcement about modality changes in several programs.
For general information, continue to check your @webster email and the webster.edu/covid19 site, where broad policy updates will be shared. You can also send related questions to covid19@webster.edu. For specific topics (e.g. advising, living on campus, move-in, athletics, financial aid) contact the relevant department.
Upcoming Information Sessions
Students at extended U.S. and international campuses should look for communication from their locations. For students at the main campus, check your email for the following as we get closer to the start of the term:
Student Affairs will hold a Q&A for returning students on Aug. 10;
The Office of First Year Experience and Undergraduate Persistence is facilitating a series of calls called "Gorlok and Chill" for new, incoming students, slated for Aug. 6, 13, 27, and Sept. 3;
You may also want to browse recent audio recordings of "Wednesdays with Webster," the latest episodes of which included discussions with our director of Student Health Services, Housing & Residential Life, and faculty members discussing how they've prepared for fall.
Summary
Thank you for reviewing these important updates. In summary, it will be the responsibility of all of us in the Webster community to help each other maintain a healthy environment on campus by:
Completing the daily health screening
Wearing facial coverings over nose and mouth
Maintaining social distancing
Frequently washing hands
Disinfecting common spaces and surfaces
Following the latest updates for your campus
We look forward to seeing you soon!
The Task Force on Transition & Adaptability
and
President Julian Z. Schuster