San Antonio Rededication Celebrated with Chamber of Commerce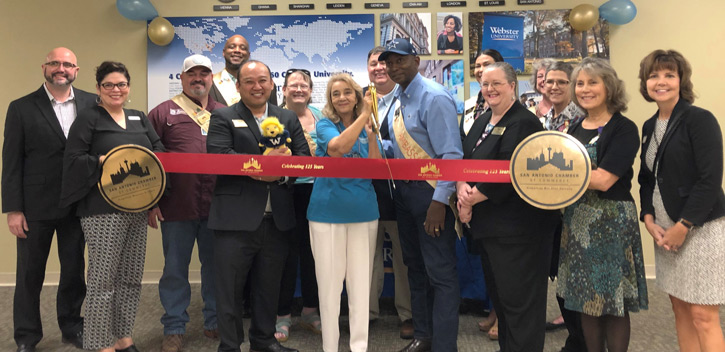 Webster University staff and the San Antonio Chamber of Commerce joined for a "rededication" of this metropolitan campus location. The metro site is one of four Webster campus locations in the San Antonio area, along with military locations at Randolph Air Force Base, Lackland Air Force Base, and Fort Sam Houston.
The ceremony and luncheon was sponsored by the San Antonio Chamber of Commerce. Representatives from the Chamber included master of ceremonies Todd Bufalino and Melissa Holding who are Chamber Ambassadors presented a certificate, plaque and conducted the Official Ribbon Cutting.
Webster interim regional director Beth Vivaldi and campus director Melmar Ordinario, along with staff members Xavier Flores, Linda King, and Jian Gong, were in attendance -- as was the Gorlok. Vivaldi praised the local staff: "When you have a brand new team, you've got fire and I love it."