Schmidt Earns United Soccer Coaches Scholar All-America Team Honors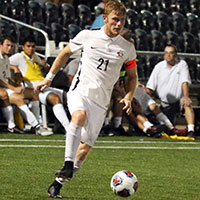 Webster University men's soccer junior defender Justin Schmidt (St. Louis, Mo./Metro) was named a Third-Team selection to the 2018 NCAA Division III United Soccer Coaches (USC) Scholar All-America Team that was announced earlier this week by the organization.
Schmidt, who was named a Second-Team United Soccer Coaches 2018 NCAA Division III Scholar All-North/Central Region selection on Monday, earns a spot on the NCAA Division III Scholar All-American Team Third Team after earning a 3.51 cumulative grade point average in film production.
With his selection, Schmidt becomes just the second Webster soccer player to earn Scholar All-American honors from the United Soccer Coaches as former women's soccer player Ashley Mess was tabbed a Women's Third-Team Scholar All-America selection in 2015.
To be named a scholar All-American, a student-athlete must maintain a 3.30 cumulative GPA (on a 4.0 scale) or better throughout their career; started more than 50 percent of all games and significantly contribute to their team; nominated by head coach of current College Services member institution; be a Junior or above in academic standing; and, if a transfer student, in second year at school.
The 2018 Division III Men's Scholar All-American Team features 37 players from 32 different NCAA Division III institutions as three schools had multiple selections to one of the three teams. The schools with multiple selections were Tufts (3), University of Chicago (2) and Messiah (2). In addition, Schmidt is the only player named a Scholar All-American from the SLIAC and one of only two players from the state of Missouri honored as WashU senior forward Ryan Sproule was named a third team selection.