Two San Antonio Students Awarded Scholarships
Two students from the Webster University San Antonio metro campus location were awarded scholarships: Courtney Leanne Bradford was awarded The Joyce Garlick Peavy Endowed Scholarship in the amount of $3,244, and Denzell Erves was awarded the William Thornton Memorial Endowed Scholarship in the amount of $1,454.
Both scholarships are funded by esteemed alumni and community members who believe in and value a distinguished Webster University education. Bradford and Erves have been entrusted with a donor-named scholarship because they represent the University's highest standards of excellence.
Courtney Bradford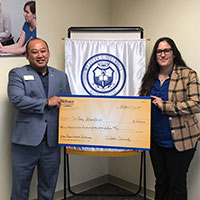 Bradford is a graduate student pursuing an MA in Human Resource Management and expected to graduate in May 2022. She volunteers with local organizations such as The San Antonio Food Bank, The Family Service Association, and The Salvation Army. Her participation on review boards for a financial and cultural essay or scholarship awards include the American Indian Graduate Center, InvestWrite, an innovative national writing competition and APIA Scholars for Asian Pacific Islander American students.
As an employee of Wells Fargo during her recent Community Support Campaign, Bradford supported local and statewide charities. She collected books to be donated to the High Risk Hope, Inc. Book for Babies Drive in Florida, which promotes literacy and educational growth in premature babies. Also, she collected toiletries to be donated to the Covenant House in Alaska for at Risk Youth.
Denzell Erves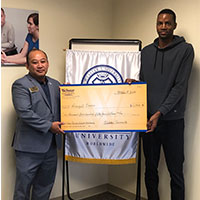 A graduate student pursuing an MBA and expecting to graduate in May 2022, Erves has traveled and lived in six countries after since his undergraduate years and was promoted to manager within six months of employment. He has received top performer awards each year in previous roles as well.
His community involvement includes Toys for Tots Foundation, the United Way and Feed the Homeless events at his church. Erves enjoys being an inspiration to others through charity.