WATTS Scholars Meet Scientists, Visit Cofactor Genomics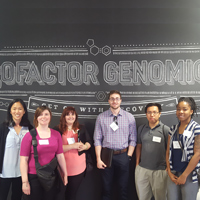 On Friday, April 13, Winning Approaches for Talented Transfers in STEM (WATTS) Scholarship recipients participated in a Career Development Tour coordinated by the Career Planning & Development Center.
Accompanied by Mary Preuss, associate professor and department chair of Biological Sciences in Webster's College of Arts & Sciences; Julie McHugh, program director and Trezette Dixon, assistant director, Employer Relations, both in Webster's Career Planning & Development Center, students visited the Doisy College of Health Sciences at St. Louis University and Cofactor Genomics.
An admissions representative from Doisy College of Health Sciences shared information on a variety of graduate programs including athletic training, nutrition and dietetics, physician assistant, and magnetic resonance imaging.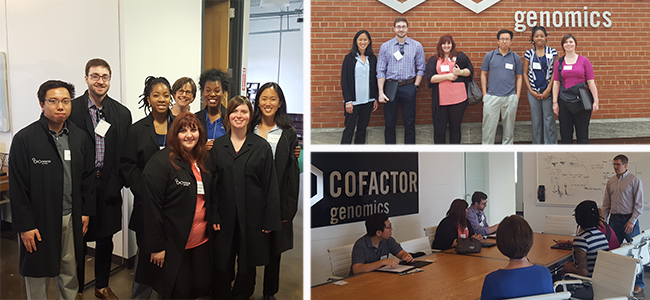 At Cofactor Genomics, students received a tour of everything from the unique space that included gondolas used as meeting and work space and labs where scientists analyze cancer cells with efforts to change the way we diagnose cancer.
After an overview of the innovative advances at Cofactor, students received career advice from scientists, encouraging them to conduct informational interviews with professionals in their field of interest and engage in a variety of experiences to identify career paths and confirm interests.
This event, co-hosted by the Career Planning & Development Center and the Department of Biological Sciences in the College of Arts & Sciences, is an example of a meaningful, cross-campus collaboration that promotes student learning and success.
The WATTS scholarship program for transfer students in biology and chemistry, funded by the National Science Foundation S-STEM grant program.