SCTC and Webster Partner to Ease the Ability of Students to Earn a Bachelor's Degree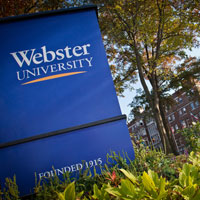 The South Carolina Technical College System (SCTC) and Webster University are in the final phases of an agreement that will make it easier for students earning associate degrees at SCTC to continue with their education and earn bachelor's degrees at Webster University without having to repeat general education courses.
"Nationally, nearly one-third of all first-time college students attend a community college or technical college before entering into a traditional four-year bachelor's program, but those students often find that some of the courses they took at the first institution won't transfer to the second, meaning they have to repeat some courses," said Donavan L. Outten, Webster's Associate Vice President for Extended U.S. Campuses. "Through this new agreement, students who transfer from SCTC to Webster after completing an associate degree will be able to continue their educational journey uninterrupted and finish a four-year degree in less than two years."
Students who completed an Associate in Art, Associate in Science or Associate in Applied Science program at SCTC can transfer up to 90 credit units to an approved baccalaureate program at Webster. Starting next year, students need 120 credits to earn a bachelor's at Webster, meaning that students who transfer the maximum amount of credits could earn the four-year degree within two years of transferring. In order to transfer credits from a course, the student must have received a grade of C or better and also meet Webster's admission requirements.
SCTC students who have not completed an associate degree can transfer up to 64 credits to a Webster baccalaureate program. Webster has also agreed to a "reverse transfer" agreement, which means that students who started in an associate degree program at SCTC but transfers to Webster before completing that program, can transfer Webster credits back to SCTC to complete the associate degree.
Webster currently has six campus locations in South Carolina including Charleston, Columbia, Greenville, Myrtle Beach, Fort Jackson, and Shaw Air Force Base. Webster University is regionally accredited by the Higher Learning Commission.
For more information or to apply for the program, visit Webster.edu.