Mother and Daughter Take Classes Together at Webster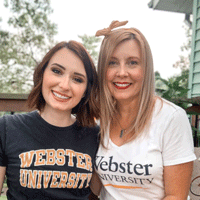 ST. LOUIS - Imagine entering a classroom for a degree you are working on, looking at all the other students and seeing your mom or your child sitting in the center aisle, notebooks in hand, ready to start taking notes.
It sounds like a stress-induced dream, but for Tanya Seale and her daughter McKinley Seale, this happens frequently. Both are working on their master's degrees in Webster's Arts Management and Leadership program in the Leigh Gerdine College of Fine Arts.
This unlikely pairing of mother and daughter as classmates began nearly a decade ago.
Tanya didn't finish college right after high school. Like many of her peers, she got a job, got married and became a parent. It wasn't until when her children were in school that she earned a BA in English from Webster in 2012.
Soon after, her thoughts turned to earning a master's degree, but she had doubts. She was already a parent, was running a household and held a full-time job, so there were concerns about time management. Also, her children were getting close to college age, so there was potential for awkward moments at school and at home. She also was worried that the generational differences between herself and the other classmates would single her out as the person in the room who didn't belong.
It was a friend who changed her mind and encouraged her to earn a Master of Fine Arts in Dramatic Writing from Goddard College in 2017.
"A dear friend said, 'You're going to be two years older in two years anyway. You'll be two years older with your MFA, or you'll be two years older without your MFA.' That seemingly obvious statement really had an impact on me. The timing was right then to do the creative writing program, and the timing is right now to begin the management and leadership program."
McKinley had a different journey. She graduated from Point Park University with a Bachelor of Fine Arts in Musical Theatre and a minor in Dance just last semester. "I was originally planning to move to New York and start auditioning, but then the pandemic began. So I moved back home to work and save up some money," she said. "After a couple of months at home, I began to feel disconnected from the arts and I was longing for something to get me engaged again."
That's when Tanya mentioned Webster's Arts Management and Leadership program. "I knew that earning an MFA in Arts Management and Leadership would set me up for success and give me more career options," McKinley said. "Right now, performers are scared because no one knows when their jobs are coming back and what they'll look like when they do. I wanted to give myself as many opportunities as I could."
"Because I'm interested in literature and playwriting and she's interested in performing, it just seemed a good idea, since there are no auditions for her and few opportunities for my work right now, to look at other ways to continue our educations and become more well-rounded arts professionals," Tanya said.
"I sort of joked about us applying to the Arts Management and Leadership program together," Tanya continued, "and then two days later she looked over at me while we were sitting at my son's baseball game and said, 'I think we should do it.' So here we are! And hopefully we'll be ready to launch in multiple directions when the arts world gets up and running again."
McKinley never thought she would be taking classes with her mother, adding that she didn't plan on attending graduate school for at least another decade. But she has learned to seize opportunity when it presents itself. "One of the things my mom instilled in me is that you can never have enough education, and education is the one thing that no one can take away from you. Knowing this, I think it just made sense for us to go back to school with all the uncertainty in the world right now."
And there is one thing that both Tanya and McKinley think is certain right now: they both enjoy being in class together.
"It has been exciting being in school with my mom!" McKinley said. "It's helpful to have someone holding me accountable for things like printing out the readings, doing my assignments early, and thinking about the subjects outside of the actual class. Our dinner table discussions have switched from, 'How is that Netflix show you're watching?' to 'How do you think we can save the arts?'"
"We talk about the arts and the state of the arts all the time," Tanya said. "We both love live performance—especially theatre—and ever since she was a little girl, we've attended plays and musicals and other kinds of performances together. Being in class together makes it easy and fun to have discussions through the week as we relate what we are learning in our classes to our personal interests."
McKinley divulged that since the program they are in is so specialized, they will be taking all their classes together, but neither one is worried about how spending so much time together will affect their relationship.
"I think taking classes together can only bring us even closer," Tanya said. "We share many of the same interests already, but we each have ideas for innovative arts organizations that we might like to pursue in the future. Who knows? We might even use the knowledge we acquire in this program to pursue future ventures together!"
McKinley agreed with her mom's sentiment. "My mom and I have always had a close and honest relationship together, so I think taking classes together will only make us closer. We've never had a peer relationship before, so it's like we're adding another layer. At the end of the day, she's still my mom making sure I have all my assignments done."
"It's nice to be able to continue the discussions we have in class outside of the classroom; I feel like this has been helping my understanding of the material," McKinley added. "We could also potentially start an arts organization together after the program is over, since we will both have the tools we need."
That is, of course, after both Seales walk down the graduation aisle together in May of 2022.