Second Baseball Player Joins Professional Team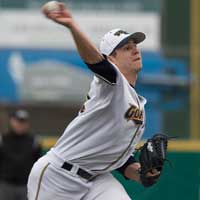 ST. LOUIS - Webster University baseball had a rare feat in 2017 for an NCAA III program, with two players signing professional contracts, including one drafted to the MLB. Josh Fleming was drafted in the fifth round of the MLB draft with the 139th pick overall by the Tampa Bay Rays, and Kyle Uhrich became the second Gorlok to land a contract, signing with the Gateway Grizzlies of the independent Frontier League.
Fleming, a graduate of Columbia High School in Columbia, Illinois, was on solid footing entering the 2017 season, but an NCAA III-leading earned run average of 0.68, 115 strikeouts (second in the NCAA III) in 92 2/3 innings of work, and an 8-1 record made his stock soar higher. At 21, he is the first player on a St. Louis Intercollegiate Athletic Conference (SLIAC) team to be drafted by the MLB in 19 years, and only the second SLIAC baseball player to ever be drafted.
Until he was drafted, he was a junior studying business administration in the George Herbert Walker School of Business & Technology.
Uhrich, a graduate of Webster Groves High School in St. Louis, had a stellar season on the mound for Webster. He was 7-3 for Webster, with four saves, a 2.29 earned run average, and 90 strikeouts in just 59 innings. Uhrich held opponents to a .131 batting average, the lowest in team history for the Gorloks. The 22-year-old was a computer science major in the George Herbert Walker School of Business & Technology.
Fleming's 2017 season got the attention of regional and national outlets. He first earned the St. Louis Intercollegiate Athletic Conference "Pitcher of the Year" award, then was named the d3baseball.com 2017 Central Region 'Pitcher of the Year' and to the d3baseball.com All-Central Region First Team. The American Baseball Coaches Association followed with ABCA/Rawlings 2017 Central Region 'Pitcher of the Year' recognition for Fleming, as well as being named to the Central All-Region First Team.

His recognition reached the national level as he was the d3baseball.com 2017 "Pitcher of the Year," while landing on their All-American First Team. Fleming was also ABCA/Rawlings All-America First Team, just the second player in Webster history to earn a First Team spot. He is eligible for ABCA/Rawlings 'Player of the Year' consideration.
Uhrich was named an ABCA/Rawlings Second Team All-America, being recognized in 2015 as well. He was a d3baseball.com All-American selection for a third straight year. Uhrich was ABCA/Rawlings First Team All-Central Region in 2017 and 2015, and Second Team in 2016. He was a St. Louis Intercollegiate Athletic Conference First Team All-Conference selection all three years at Webster.
Uhrich will challenge the St. Louis Cardinal's Adam Wainwright for the title of 'best hitting professional pitcher' in the St. Louis area, because of his batting prowess as well. He is the Webster career home run leader with 34, having bopped an NCAA III-leading 17 in 2015. Uhrich had a career .326 batting average.

The Gateway Grizzlies are located in Sauget, IL, and Uhrich will be no stranger to their home field of GCS Ballpark – it's also the home field of the Webster University Gorloks. The Grizzlies began play in 2001 and opened GCS Ballpark in 2002. The facility has been home for the Gorloks since 2004.