Student Government Association Election Results Announced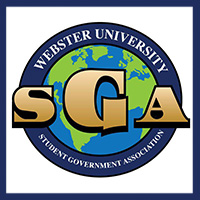 The Office of Student Engagement has released the results for the 2018-19 Student Government Association elections.
Regular elections occur during the Fall Semester for At-Large Senators and the Spring semester for Academic Senators and Executive Board members. This year, 269 votes were cast in the election.
The following students were elected to open positions within Student Government Association for the 2018-19 academic year. To learn more about those elected, visit the Meet the Members section of the SGA site.
College of Arts & Sciences
Michael Langston - Senator
School of Communications
Travis Haughton – Senator
Liah Neudecker – Senator
Fine Arts
Zipporah Cunningham*
Gabriel Peppers*
Senators At Large
Darieana Hunter
Wafa Osman
Sarah Hill
Ali Raza
*Write-In Candidates still pending acceptance of position
About the Student Government Association
The Student Government Association (SGA) of Webster University serves as the representative body for students at the Webster Groves campus.
SGA advocates on behalf of students in university affairs, charters and funds student organizations, supports student organization leadership, and funds large-scale organization events and student trips. Members serve one year terms or until the end of the academic year.