Volunteers Sought for Backyard Bee Project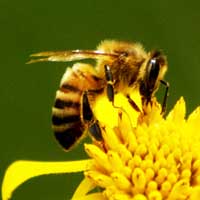 ST. LOUIS - Volunteers are needed for a new community science project that could shed some light on the bee population.
Shutterbee is organized by Biology Professor Nicole Miller-Struttmann, Saint Louis University (SLU) Professor Gerardo Camilo, and SLU graduate student Nina Fogel. They are looking for people who can document bees in their own backyards. Virtual trainings on how to conduct these surveys will be held on May 10, May 21 and May 23. Registration is required.
The purpose of Shutterbee is to understand how landscape features and land management decisions affect bee diversity. Data collected by the volunteers will be analyzed and catalogued by Miller-Struttmann and several other biology professors in the region.
Volunteers will be trained on how to set up a scientific process for capturing images of bees in their backyard, including how to set up a regular schedule and create a survey grid. Volunteers must own a camera or have a cell phone with a built-in camera.
Professor Miller-Struttmann, who holds the Laurance L. Browning Endowed Professor in Biological Sciences chair in the Webster University College of Arts & Sciences, is well known for her bee expertise and the many community science efforts she has led in St. Louis.
She helped create the St. Louis Bee Brigade, which trains volunteers on how to photograph and identify various bee species in the region and then catalog them in a database that is shared by several universities. She also helped create the pollinator garden with the St. Louis Public Central Library and has worked with fifth and sixth graders and their science teachers in the area to teach the students the fundamentals of field research.
During her time at Webster, Miller-Struttmann has made national news for her work into tracking bees through sound, the impact climate change has had on bees, research into beehive collapse, and bee behavior during solar eclipses. Her work was also featured in Smithsonian Magazine. Last year, she was the recipient of the 2019 Science Educator Award by the St. Louis Academy of Science this year. The Science Educator Award recognizes a distinguished individual for outstanding contributions to science education or to the public understanding of science, engineering, or technology.
For more information on how to participate in Shutterbee, visit https://sites.google.com/view/millerstruttmann/shutterbee