21 Webster University Nursing Students Inducted into International Nursing Honor Society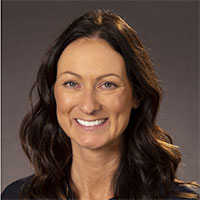 On May 13, 2020, 21 Webster University students were inducted into the Delta Lambda-At Large Chapter of Sigma Theta Tau International (Sigma). Sigma is the international honor society for nursing. In addition, two students were recognized for excellence in leadership and scholarship.
Norma Martin, BSN, the recipient of the Janice Hooper Undergraduate Award, was recognized for going above and beyond in providing support to fellow students.
A faculty member wrote that Martin "operates from a strong value system of supporting vulnerable populations as she is currently working at Mercy Hospital in the JFK Clinics. Norma is bilingual (Spanish and English). She is able to provide a skill set to her clients that is often not possible for them, health care in their first language. Norma is bright, kind and compassionate. She is what we all hope for in a nurse."
Angela Filipiak, the recipient of the Webster University Graduate Student Award, used evidence to build a practice-improvement project aimed at decreasing falls in elderly patients with dementia, using doll therapy. This project was quickly noticed by leaders at SSM and adopted for dissemination throughout SSM system.
Filipiak presented her work at the spring 2020 Webster University Teaching Festival.
Inductee: Bachelor of Science in Nursing
Inductees: Master of Science in Nursing:
Tracy Allard
Stephanie Banaszynski
TaMare Banks
Elizabeth Bland
Nadja Caus
Haley Ellison
Lindsey Gause
Megan Gibson
James Haran
Erin Hourihan
Bradley Hult
Laura Kamp
Paula Krohn
Kathryn Limper
Mioara Neagu
Tracey Rahn
Sarah Schaffner
Mathew Smigell
Brittaney Vaughn
Julie Waters