Cummings Appointed Dean of Walker School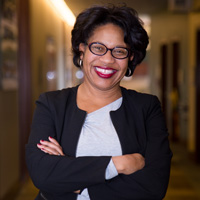 ST. LOUIS – Simone Cummings, associate dean of Academic Quality Assurance for the George Herbert Walker School of Business & Technology and an associate professor in the Business Department at Webster University, was appointed the new dean of the Walker School of Business & Technology, it was announced today.

Cummings will begin the position in June 2017.

"Simone has a proven capacity to lead," said Elizabeth (Beth) J. Stroble, president of Webster University. "In her time at Webster she has made significant contributions not only to the Walker School but to the university community. We are confident that she will build on the Walker School's position here in St. Louis and across Webster's locations to assure that our students gain the knowledge and skills needed to thrive now and in their career lifetimes."

Julian Schuster, Webster University's provost, senior vice president and chief operating officer, said that Cummings' experience in accreditation and research will help the school exceed accreditation standards and open new opportunities for student research and experiential learning.

"It is important that students of the Walker School of Business & Technology develop a broad, ethical and global education," said Schuster. "Simone has the skills and leadership ability to help the Walker School of Business & Technology continue to grow in that direction. She has great experience with the business world and I look forward to continuing to work with her as she leads the school."

Cummings joined the Walker School in 2013 as an associate professor of management, teaching finance and statistics courses in the Master of Health Administration program. In 2015 she began her role as Associate Dean of Academic Quality Assurance.

"I am honored to be selected as dean of the Walker School of Business & Technology and I look forward to working with the faculty, staff and students to build upon our existing strengths and create new strengths -- to grow our enrollment, enhance our reputation and facilitate our students' academic and professional success," Cummings said. "Webster University is a truly global university and we are uniquely equipped to help students become global business leaders."

Prior to joining the Walker faculty, she worked for a number of hospitals, including Barnes-Jewish Hospital, St. Louis Regional Hospital and Columbia Hospital for Women in Washington, D.C. She has also held faculty positions at Simmons College in Boston and Washington University in St. Louis.

Cummings has been published in a number of journals including the American Journal on Addictions, the Journal of Health Politics Policy and Law, the Journal of Addiction Medicine, Health Services Research and the Journal of the American Pharmacists Association.

Cummings has a bachelor's degree in Business Administration from Washington University in St. Louis, a master's in Health Administration from Washington University in St. Louis, and a PhD in Health Policy and Administration from University of North Carolina at Chapel Hill.
Updated April 4, 2017
Reception April 28
The George Herbert Walker School of Business and Technology invites the Webster University community to a reception for Simone Cummings in honor of her recent appointment as incoming dean of the Walker School. The reception will take place on Friday, April 28, from 3-5 p.m. in the East Academic Building, Room 253/262. Light refreshments will be provided.

Join us as we congratulate and celebrate Cummings on her outstanding achievement and service to Webster University and the Walker School.