New Inductees to Webster Chapter of Sigma Iota Rho Honor Society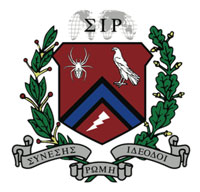 Webster University's Eta Alpha chapter of Sigma Iota Rho inducted 26 new members on May 8. These new members will further the honor society's mission to acknowledge scholarship and service among students and practitioners of international affairs.
The virtual induction began with a welcome by Eta Alpha co-presidents Brandon Jackson and Daniela Piazzi, followed by a keynote from Webster University President, Julian Z. Schuster. President Schuster spoke to the continued importance of internationalism and teamwork as we shape the future.
The honor society then inducted 26 members:
Brent Atkinson, Ryan Becke, Szonja Benczik, Danielle Bleitner, Kynan Broyles, Bridget Carter, Zia Clements, Anna Gorbatyuk, Mark Gruensteidl, Sarah Hill, David Ilioski, Daisy James-Weidner, Ryan Janusick, Magdalena Kopal, Michael Langston, Katherine Loscher, Benjamin Maxwell, Dharma Merkle, Juliana Ness, Lance Pfeifer, Ekaterina Panayotova, Foster Payne II, Ryan Schaffer, Kevin Seiff, Brianna Willis, and Samuel Wobbe.
The inductees represent a variety of majors and minors from across Webster University's internationalized curriculum. They are graduate and undergraduate students attending in St. Louis, Vienna, Leiden and online. They have distinguished themselves academically and through their co-curricular activities.
The Directors of the Leiden and Vienna campuses, as well as faculty members from the History, Politics, and International Relations department in St. Louis were on hand (virtually) to congratulate the inductees. Friends and family members were able to watch the induction live via YouTube.