Webster Alumni Inducted into SLIAC Hall of Fame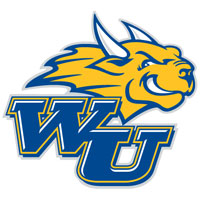 The St. Louis Intercollegiate Athletic Conference (SLIAC) has announced four new members of the 2020 Hall of Fame Class, including two former Gorloks: former women's soccer player Ashley Everett Zeier and former men's soccer player Kevin Fann.

This year's SLIAC Hall of Fame inductees will be honored during the league's annual Awards Banquet, which at this time, has been put on hold due to the continuing spread of the COVID-19 virus nationwide and a ban of gatherings of 10 or more people in the St. Louis area.

Their selections make Everett Zeier and Fann the 12th and 13th members with Webster ties to be inducted into the SLIAC Hall of Fame. Last year, former women's basketball player Angie Carr and former men's soccer coach Marty Todt were inducted into the SLIAC Hall of Fame. Since the SLIAC Hall of Fame was reinstated in 2007, Webster has had a total of 11 inductees.
"What a tremendous honor, not only for Ashley and Kevin, but also for Webster Athletics," said Webster University Director of Athletics Scott Kilgallon. "Both of them had outstanding Hall of Fame worthy careers as Gorloks and are truly deserving of this enshrinement into the SLIAC Hall of Fame."

Everett Zeier earns her spot in the SLIAC Hall of Fame after being a standout member of the Webster women's soccer program from 1999-03. In her time as a Gorlok, Everett Zeier, who is from Florissant, Mo., was a four-time All-SLIAC selection and led the team to three consecutive SLIAC titles from 2000-02. In the classroom, she was a two-time NSCAA All-Region Academic Scholar member. In 2012, Everett Zeier was inducted into Webster's Athletics Hall of Fame.

"Ashley (Everett) Zeier anchored my team's first defense, as Webster women's soccer began play in 1999. I was fortunate to have a great player like Ashley in our first recruiting class," said Webster women's soccer coach Luigi Scire. "A vocal leader with a very strong presence on the field, Ashley was an excellent student off of it. She was the perfect player to lead our defense, the hallmark of that first squad. Ashley was named captain that first year and is the only Webster player to finish her career as a four-year captain. She was part of three undefeated SLIAC championships, three NCAA appearances and an overall record of 65-10-4, going 45-2-2 in SLIAC play, in those first four seasons. I have been blessed with so many outstanding student-athletes, but, when it comes to recruiting an outstanding defender or evaluating one for the Hall of Fame, they will always have to measure up to Ashley (Everett) Zeier."

Fann earns his spot in the SLIAC Hall of Fame after an outstanding four-year career as a member of the Gorlok men's soccer team from 2005-08. In his time as a Gorlok, Fann, a St. Louis native, was a four-year All-SLIAC selection and a two-time SLIAC Player of the Year. Fann was named the SLIAC Tournament MVP after leading the Gorloks to a SLIAC Tournament title and an NCAA Tournament appearance. Fann currently holds Webster career records for total points, goals scored and game winning goals. In 2015, Fann, who was named the Webster University Scholar Athlete of the Year in 2009, was inducted into Webster's Athletics Hall of Fame.