Webster University Presents 'Small Works' at Arcade Contemporary Art Projects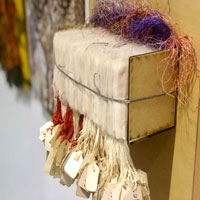 Webster University's Arcade Contemporary Art Projects (ACAP) Annex Gallery is proud to host Small Works , an exhibition showcasing 10" x 10" innovative works by Surface Design Association's (SDA) textile and fiber artists from the United States, Australia, China, Japan, Poland and the United Kingdom.
The Small Works exhibition opens with a reception on Saturday, Oct. 5, from 10 a.m.-2 p.m., in conjunction with the SDA biennial conference, Beyond the Surface, Oct. 3-6. ACAP is honored to be one of only a few of the 40+ partner art institutions to be an essential stop on all Innovations in Textiles bus tours in St. Louis on Oct. 5.
Innovation in Textiles 2019
Innovations in Textiles 2019 is a regional collaborative event presented in Fall 2019 throughout St. Louis, St. Charles and Columbia, Missouri, as well as Metro-East and Mt. Vernon, Illinois. Innovations in Textiles 2019 serves to enlighten the community with a unique aesthetic perspective on fiber art.
Innovations in Textiles 2019 is comprised of over 40 regional nonprofit & commercial art galleries, organizations, and museums that have joined forces to present innovative exhibitions that explore fiber art, textiles, and fashion created by local, regional, national, and international artists.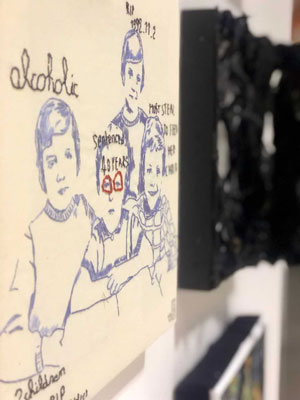 Astrid Bennett, president of Surface Design Association, selected Webster' ACAP Annex Gallery specifically for Small Works , because of the vitality of Webster's Department of Art, Design & Art History, the location and richness of the community around the campus.
"Our partnership with Innovations in Textiles 2019 offers us a rich and very exciting menu of exhibitions that would be impossible to stage on our own," said Bennett. "We are thrilled! The conference also offers us a chance to meet in person for experiences that are otherwise impossible in our virtual world."
A broad range of artistic programming & activities is scheduled through Aug. to Nov. including exhibitions, receptions, open houses, workshops, lectures, gallery talks, studio tours, a bus tour, and other community programs.
Innovations in Textiles 2019 welcomes Surface Design Association's Beyond the Surface. St. Louis Conference will be featuring a keynote lecture from artist Yvonne Osei on An Art Practice Defined by Public Space, Discover, and Travel, at the Missouri History Museum on Friday, Oct. 4 at 11:15 a.m.
"We're so lucky to have Yvonne Osei participate in the conference. Her use of textiles to explore both physical and cultural landscapes is so powerful," said Karena Bennett, executive director of Surface Design Association. "As a transmedia artist, she masterfully navigates so many mediums. Her work provokes us to rethink preconceived ideas and pushes us to examine ourselves and our surroundings in new ways."
Visit vimeo.com/yvonneosei to view Yvonne Osei video artwork.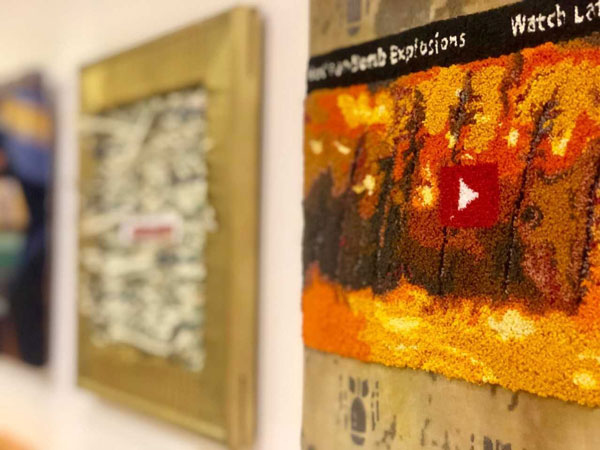 Vienna Aluma Art Part of Exhibit
Small Works is one of two exhibitions Webster's ACAP that is being presented this October. As a proud partner of Innovations in Textiles 2019, ACAP will have the opening exhibit of artist Eva Petrič, who will be showcasing, Our Last Race, on Friday, Oct. 4, from 6-9 p.m.
Petrič, who graduated from Webster's Vienna Campus in 2005, will be present in conjunction with the opening of Small Works , for a guided walk and Q&A of the exhibit.
Visit innovationsintextilesstl.org for more information on Innovations in Textiles 2019.
For more information about Webster's Arcade Contemporary Art Projects, contact curcurufrancesca@webster.edu.