Snapshots: Community, camaraderie at global recognition breakfast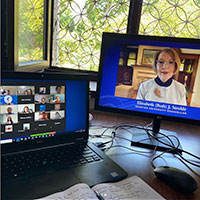 On the Webster Groves campus, a breakfast program is traditionally held in Grant Gymnasium the Tuesday following commencement, but this year's change to remote operations was a chance for us to celebrate globally, together on one day with employees from all campuses worldwide.
Unit leaders at Webster University campuses hosted virtual team breakfast meetings on May 15 to celebrate the accomplishments, service anniversaries and retirements of faculty and staff. Meetings began with a video recording of welcome and appreciation from Chancellor Beth Stroble and President Julian Schuster. A Year-In-Review photo slideshow was also shown, reflecting on the main campus events of 2019-2020.
Other previously announced honorees from the network were also recognized at the event, which was organized by Human Resources with video and presentation help from Global Marketing & Communications and coordination and additional input from Academic Affairs, the Office of Special Events, WSA, the Faculty Senate and more. These included the faculty recipients of this year's Kemper and Messing awards, the staff Gorlok Greats, new retirees, and those who reached milestones for years of service in 2020. The Staff Member of the Year process is on hold right now and will be assessed upon return from Modified Operations.
Members of the Chancellor's and President's Councils also joined various meetings as a part of several unit's celebration of the end of the academic year.
Faculty Awards, Gorlok Greats, Milestones
William T. Kemper Award for Excellence in Teaching: Funded by the William T. Kemper Foundation, this award each year is given to two full-time and two part-time faculty members from throughout the Webster campus network who demonstrate teaching at its finest, with nominations and support from colleagues and students. The 2020 recipients, profiled here, are Gad Guterman, Sheila Hwang, David Dixon and Thomas Serfass.
Gorlok Great Awards:
2020 Wilma Roswell Messing Jr. Faculty Award recipients was Joanna Battles . Read more about the activities Battles will pursue here.
Finally, new retirees and employees reaching service anniversaries ranging from five to 45 years were honored, with William Tippin reaching 45 years of service, and Tom Lang reaching 50 years of service.

#websterbyob
Post photos or screen captures of your team's breakfast meeting on social media using #websterbyob. Show us how your team celebrated the close of an academic year, recognized employee accomplishments and service anniversaries.