Snapshots: Graphic Design Showcase

Twelve Graphic Design students presented their digital and print portfolios at the Graphic Design Showcase, held Jan. 29 in the East Academic Building's Edward Jones Commons. Local designers, art directors, and human resources representatives with an interest in design were also on hand to critique their work and answer students' questions.
The showcase featured the work of Sarah Boudreau, John Brobst, Grace Cohen, Anna Marie Cruzen, Camerron Estes, Jessica Ferguson, Michaela Finnerty, Ashley Klenke, Jara Olsen, Justin Smith, Farah Tinnemeyer and Ashley Webelhuth.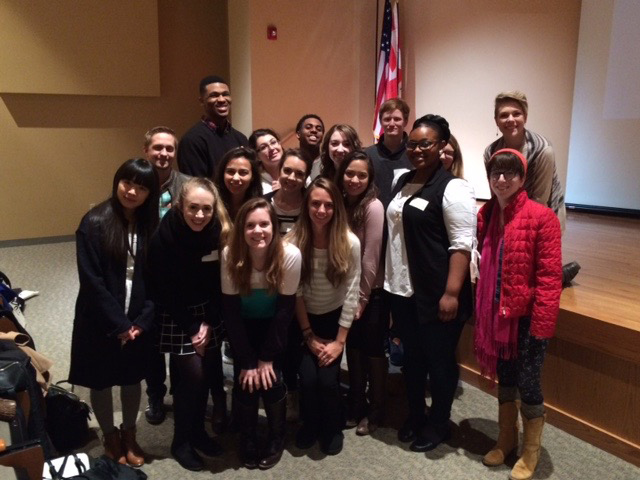 Faculty members, staff, alumni, prospective students, and other Webster students were also in attendance. Prospective students also had the opportunity to tour the graphic design studios and meet with faculty and staff of the department.

This was an excellent opportunity for Webster University Graphic Design students to network with local professionals many of which were alumni, as well as receive feedback on their design work from experts in the field.

The Showcase was sponsored by Group 360 Worldwide. Senior vice president and executive creative director Allan Meyerson judged all the portfolios, with the GROUP360 Creative Excellence Award presented to Webelhuth and Boudreau.