Webster Counseling Students at Myrtle Beach Win ACA Student Ethics Competition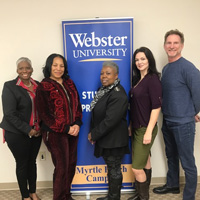 A team of counseling graduate students from Webster University's Myrtle Beach campus location have won the nationwide 2016-2017 Graduate Student Ethics Competition sponsored by the American Counseling Association.
Students Andrea Gillespie, Tamara McCaffity, John McIntyre and Jacqueline McMillian were encouraged to enter the competition by faculty advisor La Vera Brown, PhD, NCC, LPC-S, CFMHE, who is a core faculty member and clinical coordinator for Webster's Department of Professional Counseling.
The students finished first in the Master's Level competition.
The purpose of the competition is to educate members of the association regarding ethical issues and to engage graduate students (masters and doctoral level) in critically analyzing a potential ethical case and creating an appropriate ethical decision making plan to respond to the ethical situation.
As part of the competition, students must use an ethical decision-making model "that has been discussed in the professional literature."
The names and institutions of the winning masters and doctoral teams, along with links to each team project, will be published in Counseling Today.