Snapshot: South Carolina CRC Retreat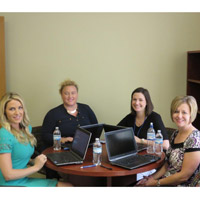 Community relation coordinators (CRC) from Webster South Carolina campus locations held their first CRC retreat on Wednesday, May 4.
They organized the retreat to share ideas on how to improve community relations, build new relationships, increase recruiting efforts, and share best practices from each of Webster's metropolitan campus locations in South Carolina.
The community relation coordinators represented were: Melanie Hamm, Columbia; Amanda Jernigan, Charleston; Melissa Turbeville, Greenville; and Helen Harman, Myrtle Beach.