Muy Bueno: Spanish Intensive Weekend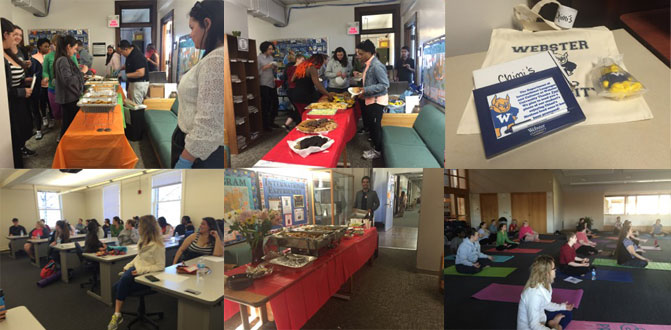 During the weekend of April 1-2, nearly 30 Spanish students participated in an intensive language weekend course led by professor Mercedes Stephenson and teaching assistant, Matias Ochoa. The students were able to practice Spanish together over the two days in a setting that allowed everyone to feel comfortable in their abilities. Students were also exposed to various aspects of culture in Spanish-speaking countries.
"I have had Mercedes as a professor before, and she is a great teacher and I always have a good time at the Spanish Language Table with Mati," said student Kelsey Pegg, explaining her decision to register for the course.
The Intensive Course met Friday evening and started with a catered dinner from Mexican restaurant Chimi's. Dinner was followed by an Argentinian movie showing Che Guevara and his life experiences before he became famous. The evening continued with a conversation about society in Latin America, the status of indigenous people, and how the two former factors influenced Che Guevara later in his life.
Saturday morning began with an hour-long yoga session lead in Spanish by Sylvia Luna. Luna is originally from Mexico, but who now teaches yoga in Missouri and was a guest presenter as part of the intensive weekend.
The rest of the weekend was full of conversing, reading, and writing in Spanish. Students also played several games that all involved teamwork and the use of Spanish. The intensive weekend ended with a celebratory dinner that was catered by Kandela's Caribbean food. Students enjoying yucca, plantains, and arroz con pollo,
The Department of International Languages and Cultures typically offers the intensive language weekend courses in the spring semester. In addition to Spanish, intensive weekends have been offered in French, German, and Japanese.
For more on studying Spanish and other languages and cultures at Webster, check out the Department of International Languages and Cultures page.