Spanish Language Students Put Skills to Use in Meeting with Bilingual Newspaper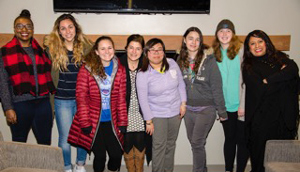 On Thursday, Dec. 7, students in SPAN 1100 (second-semester Spanish) had an opportunity to put their language skills to good use when they met Cecilia Velazquez, president of the bilingual newspaper Red Latina, which is located on Washington Ave. in St. Louis.
Taking their class work one step further, students gave short presentations on a role-model, specifically a woman, who had an impact on their lives (Una mujer que impactó mi vida).
In target language conversations with Velazquez, students asked questions about recent articles published in the paper and learned about opportunities for collaboration as double majors in Spanish (or Translation certificate) and journalism, photography or human rights.
Students also shared their future plans for networking, advertising and interest in working with Hispanic communities in the St Louis area.
Since Red Latina is the only bilingual newspaper in the area, students interested in pursuing a Translation Certificate offered through the Department of International Languages & Cultures can consider employment opportunities there.
Visit the Red Latina site here.
Learn about Webster's International Languages & Cultures programs here.