Spring Faculty Institute 2017: 'Enrollment to Retention' April 7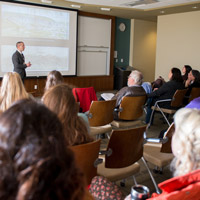 This year's Spring Faculty Institute, around the theme, "A Holistic Approach: From Student Interest to Enrollment to Retention," will take place Friday, April 7, 2:30-6:30 p.m. in Sunnen Lounge.
The goal of the event is to develop further institutional awareness among the faculty about the process of securing student enrollment and seeing them through to graduation.
The faculty and staff from undergraduate and graduate programs will speak about online learning, their successes and challenges in recruiting and retaining students.
Click here to RSVP no later than April 3 at 5 p.m.
Schedule of Events


2:30-3 p.m. Arrivals/Registration
3-3:10 p.m. Opening Remarks

Gary Renz, Senate president
Carol Guehring, Senate administrator
3:10 -3:20 p.m. Institute Introduction 


Terri F. Reilly, Senate coordinator
Basiyr Rodney, Senate vice president
3:20-3:35 p.m. Keynote Address: "The Overall Process: How and Where Do We Find and Recruit Students?"

Rob Parrent, vice president for Enrollment Management & Student Affairs
3:40-4:30 p.m. Panel Part I "From Student Interest to Enrollment"

Wonjee Beh, counselor of Graduate Admissions
Hasmik Chakaryan, assistant professor
Debbie McWilliams, manager of Online Student Admissions

Debbie Psihountas, professor
Chris Sagovac, associate professor
4:30-4:50 p.m. Break with Hors d'oeuvres
4:50-5:40 p.m. Panel Part II "From Enrollment to Retention"

Justin Barton, director FYE/UG persistence
Erin Bullerdieck, Transition coordinator
5:40-6 p.m. Closing Remarks and Reflection with Faculty Comments

6-6:30 p.m. Social .5 Hour with Bar + Dessert + Conversation