Staff Members of the Year Announced at Annual Recognition Breakfast
Tara Campbell and Nancy Higgins were announced as the Staff Members of the Year at the annual Faculty and Staff Recognition Breakfast held on the Webster Groves campus on Tuesday, May 14.
Other previously announced honorees from the network were also recognized at the event, which is hosted by Human Resources. These included the faculty recipients of this year's Kemper and Messing awards, the staff Gorlok Greats, new retirees, and those who reached milestones for years of service in 2019.
The two Staff Members of the Year, they are also alumni:
Tara Campbell, Conservatory of Theatre Arts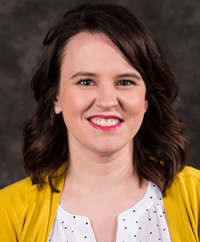 Tara Campbell (MBA '19), representative, Conservatory of Theatre Arts, is "the glue that keeps the Conservatory together," according to one nominator. She facilitates day-to-day work for faculty, staff and students with "great skill, infinite patience, and an excellent attitude," said another.
"Tara goes above and beyond service not only to faculty but to all of our students," wrote another nominator. "This includes not just the usual academic issues but supporting our season of productions. She handles all with calm and grace."
"As the representative for a large department that coordinates not only academic offerings but an entire season of performances, Tara Campbell daily manages a large, complex operation," wrote another. "An artist herself, Tara is supportive, intelligent, calm, gentle, and extremely well versed in academic rhetoric. She quite simply defines collegiality while she is literally 'hands on' with every single aspect of the inner and outer workings of what we do within the Conservatory."
Nominators praise how Campbell "prioritizes our students' well being," while also working tireless to maintain that partnerships like The Rep and Opera Theatre are properly maintained.
Nancy Higgins, Ceremonies and Events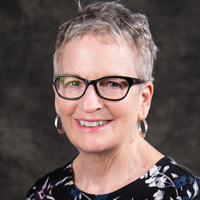 Nancy Higgins (MA '05, Media Communications), director of Ceremonies and Events, has been instrumental in creating memorable and seamless events like the annual Commencements and Diversity & Inclusion conference, among many special events each year.
"Nancy makes it seem easy even though we all know she is 'herding cats' when pulling off her events," said one nominator. "She is reliable, trustworthy and provides a sense of calm for all events in her charge."
"I don't worry about any event once Nancy gets involved," said another. "She very pleasant to work with and realistic about what can be accomplished while making others' visions come true."
"Nancy takes great pride in her work and works hard to be thorough and organized, ensuring that no one individual is left out of a conversation and process. She truly is an inclusive player of any team on which she is a member," wrote another. "It has a been a joy to work with Nancy because she truly does understand our values and lives them. Not just in her day to day professional role, but in her personal world as well. She has shared with me stories which speak to her support of students, their learning and her commitment to diversity."
Faculty Awards, Gorlok Greats, Milestones
In addition to the Staff Members of the Year, other recently announced award winners were recognized at the breakfast, which is traditionally held on the Tuesday after Commencement in St. Louis.
Among them:
William T. Kemper Award for Excellence in Teaching: Funded by the William T. Kemper Foundation, this award each year is given to two full-time and two part-time faculty members from throughout the Webster campus network who demonstrate teaching at its finest, with nominations and support from colleagues and students. The 2019 recipients, profiled here, are:
Jef Awada, associate professor, Conservatory of Theatre Arts, Leigh Gerdine College of Fine Arts
Anne Geraghty-Rathert, professor, Legal Studies Department, College of Arts & Sciences
Francesco Arese Visconti, head of Media Communications, Geneva campus
Robert Ryals, adjunct faculty, Math/Computer Science, Colorado Springs campus location
Gorlok Great Awards:
The Spring 2019 Gorlok Great recipients were Michele Boesch, Academic Affairs; Tyann Cherry, Online Learning Center; Benjamin Fasching-Gray, Vienna library; Bethany Keller, MCISA; Deborah Straubinger, Orlando Metropolitan location; Kristinn Wise, Andrews Air Force Base.
The Fall 2018 Gorlok Great recipients were Maggie Dankert, Admission; Ellie Despotaki, Athens campus; Davina Harrison, Library; Keisha Henry, Fort Gordon location; Zach Klestinske, Enrollment Technology; Beatrice von Mach, Geneva campus.
2019 Wilma Roswell Messing Jr. Faculty Award recipients: Ryan Gregg , associate professor in the Department of Art, Leigh Gerdine College of Fine Arts, and Danielle MacCartney , associate professor in the Department of Anthropology and Sociology, College of Arts & Sciences. Read more about the activities Gregg and MacCartney will pursue here.
Finally, new retirees and employees reaching service anniversaries ranging from five to 45 years were honored.