January is National Stalking Awareness Month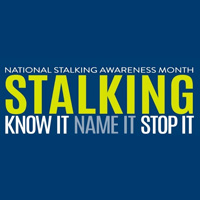 January is National Stalking Awareness Month. The Title IX Office wants to take this as an opportunity to educate the Webster University campus community on the issues of stalking, including promoting awareness and prevention.
Stalking is a serious, prevalent, and dangerous crime that impacts every community in the United States. The U.S. Department of Justice (DOJ), Office on Violence Against Women defines Stalking as "engaging in a course of conduct directed at a specific person that would cause a reasonable person to fear for his, her, or their safety or the safety of others or suffer substantial emotional duress."
According to published Stalking statistics by the Bureau of Justice Statistics:
14 in every 1,000 people of 18 years or older are victims of stalking every year.
46 percent of victims experienced at least one unwanted contact per week.
Three in four stalking victims know their stalker in some capacity.
Approximately one in four stalking victims experienced some form of cyberstalking.
11 percent of victims have been stalked for five years or more.
Throughout the month of January, please take the time to learn more about warning signs, reporting options, and how to help. Individuals are classified as stalking victims if they experienced at least one concerning behavior on at least two separate occasions.
Concerning Behaviors Include:
Unexpectedly (and repeatedly) approaches you off campus: at the movies, out to coffee with your friends, at a party.
Brings flowers to every a cappella concert that you're in, leaves "good luck" and "congratulations" notes on your dorm room door.
Takes your phone and reads your texts, emails, and incoming chats.
Steals things like your textbooks and jacket so that you have to ask for them back.
Transfers classes to be in yours.
Sends multiple texts a day to check-in, regardless of whether or not you respond.
Finds embarrassing information about you online and share it with others.
Watches where you go – in the cafeteria, between classes, in the library.
Hacks into your Instagram account and pretends to be you.
Tries to be friends with your friends and roommates without invitation.
Webster University's Title IX Office wants to ensure the safety of its students. If any student or university employee feels unsafe on campus, please go to the Public Safety Office or call (314) 968-6911.
Additionally, confidential reports may be made to a counselor in Student Counseling and Life Development located at 540 Garden Avenue; call the Counseling and Life Development office at (314) 968-7030 or e-mail counselingld@webster.edu (non-confidential).
If a situation is immediately life-threatening, always call 911.
Webster University defines stalking as follows:
Stalking is a course of conduct (two or more acts) directed at a specific person that would cause a reasonable person to fear for her, his, or others' safety, or to suffer substantial emotional distress. Stalking may take many forms, including where the individual directly, indirectly, or through third parties, by any action, method, device, or means, follows, monitors, observes, surveils, threatens, or communicates to or about a person, or interferes with a person's property.
If you or a person you know has been a victim of stalking, please contact the Title IX Office at titleix@webster.edu, or stop by the offices located in Loretto Hall, 470 Lockwood Avenue.