Spring 2020 Success Portal Reminders, Updates and New Tools Available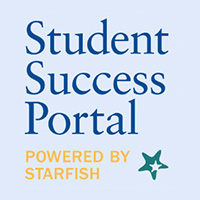 With Spring and Spring I classes beginning, it's a great time to learn about the new Student Success Portal resources available and to reacquaint one's self with the tools at hand.
New Starfish tools
Two new student success tools are launching in the Student Success Portal, powered by Starfish, in Spring 2020: the Academic Success Plan and the English Proficiency Concern Flag.
The Academic Success Plan is the second success plan to launch through Starfish and is designed to guide Undergraduate students on first-time Academic Probation for first time through a detailed intervention program kicking off in Spring 2020.
The success plan includes To-Dos (like a checklist) that will be visible to the applicable student as well as faculty and staff members to whom the student is connected, such as the assigned advisor.
The plan will be created when a student is place on first-time Academic Probation by the Academic Advising Center.
The English Proficiency Concern Flag can be raised by faculty and staff members with access to Starfish and the relevant student. Once raised, the flag routes to the English as a Second Language (ESL) team for appropriate outreach to the student. Messaging does not go directly to the student, and no one other than the flag raiser and the ESL team can see the flag and related follow-up.
More information about flag flows are provided in the Flag Flow Charts.
Additional Starfish tools
Filtering options in Starfish allow for enhanced data about, and communications with, students. To learn more about filtering, visit the Filtering section of the Student Success Portal faculty page. You can also request a training session for your office or department by emailing studentsuccess@webster.edu.
Kudos provide an opportunity for faculty and staff members to give students positive reinforcement and/or congratulations. We encourage faculty and staff members to get creative with these kudos. Some ideas for use of kudos are below:
Congratulations kudos for students who earn recognition such as the Dean's List (these types of kudos could be centrally coordinated within a school, college, or department)
Congratulations kudos for students earning extra-curricular recognition, including athletic awards
Outstanding Academic Performance kudos for students presenting research, attending conferences, etc.
Online appointment scheduling is a feature faculty and staff members can enable so that students may schedule meetings with them through the Student Success Portal. Several individuals, departments, and offices are already using online appointment scheduling.
In Spring 2020, the Academic Advising Center is launching this feature for both graduate and undergraduate student scheduling. Faculty and advisors can set up online appointment scheduling by following the instructions provided in the Online Appointment Scheduling Guide. Departments and offices interested in setting up scheduling through a Service (or setting up a Service in Starfish) should email studentsuccess@webster.edu to start the process.

This year Leiden campus is kicking off its use of Starfish, including Early Term and Midterm progress surveys in Spring 2020. Leiden is the first non-US camps to fully launch Starfish. With its integration, Webster Groves departments and offices that manage flags and referrals have been meeting to discuss updated workflows and plans for management of flags and referrals moving forward.
A number of additional resources regarding Starfish functionality live on the Success Portal website as well. These resources are helpful in understanding and setting up the system's features.
Survey submission dates
The Spring 2020 surveys will follow their usual schedule.
Attendance Verification Surveys
Spring & Spring I Undergraduate: Monday, Jan. 13 - Monday, Jan. 20 at 11 p.m.
Spring I Graduate: Monday, Jan. 6 - Monday, Jan. 13 at 11 p.m.
Spring II Undergraduate & Graduate: Monday, March 16- Monday, March 23 at 11 p.m.
Early Term and Midterm Progress Survey
Spring & Spring I Early Term: Friday, Jan. 24 - Monday, Feb. 3 at 11 p.m.
Spring 2020 Midterm: Friday, March 6 - Monday, March 16 at 11 p.m.
Spring II Early Term: Friday, March, 27 - Monday, April 6 at 11 pm.
Survey submission is strong and rising. In 2018-2019, Webster's overall submission rate for Attendance Verification and Early Term and Midterm progress surveys was 42.1 percent, and so far in 2019-2020, it has risen to 60.9 percent.
Usage data
During Webster's recent milestone meeting with Hobson's (the vendor for Starfish), the following data was shared, indicating that the Webster community continues to embrace student success efforts through strong use of and activity within the Student Success Portal.
The chart displays the actual number of flags, kudos, referrals, to-dos, and appointments that have been raised within the system between its launch in October 2017 and December 2019. The number of students indicated is unique by item type (flag, kudos, referral, to-do, and appointment) but not across multiple item types. For example, a student may have received a flag, kudos, and referral during this timeframe.